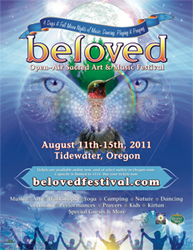 The Beloved Festival will be held August 11-15, 2011 Tidewater Falls, near the town of Tidewater. This year's lineup features Canadian cross-cultural banjo virtuoso Jayme Stone; Etran Finatawa (desert nomad beats meet polyphonic vocals from Niger); Jai Uttal (genre-bending master of the 25-string Indian sarod); the Malian percussionist Baye Kouyate, a descendent of the first griot, or traditional poet/historian; and a unique collaboration between worldly bass-driven tracks of Random Rab and Tibetan-guided downtempo of Rigzin.
"I was looking out at this beautiful fog that rolls in around sunrise at that time of year. The fog was lifting, and the sun was showing through," recalls Elliot Rasenick, founder and organizer of the Beloved Sacred Art & Music Festival. "We were watching people melt at that rare and precious moment."
Beloved pushes beyond mere musical experiences, however. Its extensive educational programming offers festival fans a chance to explore a wide range of ideas about and approaches to spiritual practice. This year, festival visitors can engage the power of myths with dynamic storyteller and researcher Michael Meade, participate in a Tibetan healing ritual, or savor Dr. Manoj Chalam's light-hearted yet deep-rooted understanding of Vedic, Tantric, and mythological symbols.
Along with prominent artists and engaging teachers, festival goers might catch the Everyone Orchestra, the brainchild of musician Matt Butler, who, whiteboard in tow, directs a champion throat singer, Pakistani Sufi singer, African hand drummer, and ecstatic crowd in making spontaneous music. You might see Gnawan performer Hassan Hakmoun wrapped in Peruvian wool against the Oregon chill, or underground dance music DJs entranced by Sufi devotional music.
This makes perfect sense to Rasenick: "We like to play with cultural collision and make it fun."
The Portland-based promoter got the idea for Beloved when he realized the audiences at the electronica events and kirtans (yoga-related chanting sessions popular in India) he organized had a great deal in common. "There were these two different audiences, doing same thing and wanting the same thing," explains Rasenick. "The two communities had a lot to learn from one another, but never got together."
Rasenick resolved to remedy that, and launched an open-air festival. Unlike many festivals, Beloved has only one stage, increasing the focus and encouraging people of different tastes, backgrounds, and faiths to listen intently to one another.
"Most music festivals keep you flitting from place to place, which can be pleasant," Rasenick notes. "We want to help participants learn to fully engage every single moment."
The single-stage focus leads to deep dialogue between festival fans and musicians, between people from radically divergent backgrounds, between the natural and sonic environment. The festival site, a valley two hours from Portland, is a headliner in and of itself: Though usually rain soaked most of the year, in August the valley near Tidewater, Oregon is remarkably clear. The site demands respect, and the festival strives to minimize its ecological impact, from offering free (non-bottled) water to selecting food and art vendors based on their green commitment.
In the lush wooded setting, people begin to open up, embracing new music and new spiritual ideas. Rasenick hears regularly from overjoyed performers and from festival goers who have found new insights, be they dance music fans who learned to love 1000-year-old sounds or skeptics who found spiritual healing in the ecumenical atmosphere of the festival.
"At that time, in that place, it's the most beautiful moment of one of the most beautiful places on planet," muses Rasenick. "It lets us create own little universe."
The Beloved Sacred Art & Music Festival 2011 Line-up
–Etran Finatawa
-Random Rab with Rigzin
–Jai Uttal
–Baye Kouyate
–Jayme Stone
-David Starfine Ensemble
-Total Experience Gospel Choir
-Mbira Dze Muninga
-Everyone Orchestra
-Shimshai & The Seraphim Sound System
-Fanna Fi Allah Sufi Qawwali
-Anjali & The Incredible Kid
-Locura
-Kaminanda
-Zili Misik
-Akara
-Within Sound Healing
-Phutureprimitive
-Sara Tone & The Earthtribe Gospel
-Global Ruckus
-Rafe Pearlman
Tidewater Falls is located about 2.5 hours from Portland or Eugene, 5.5 hours from Ashland or Seattle and 10.5 hours from San Francisco or Vancouver, BC.
More information at belovedfestival.com
Author:
World Music Central News Department
World music news from the editors at World Music Central