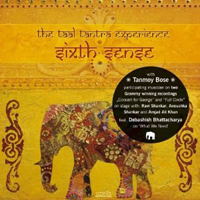 The Taal Tantra Experience
Sixth Sense (Ozella Music, 2011)
Set for release August 9th, Sixth Sense draws listeners into the musical amalgam that is The Taal Tantra Experience. This cross pollination of German jazz and Indian musicians leaps over traditional boundaries, pushes against the strictures of genre and discovers a lush musical collaboration that's bound to earn the group a devoted fan following. Musically trekking and recording Six Sense in Berlin and Calcutta, The Taal Tantra Experience discovers a land where European jazz wends its way through the Indian raga. The result is a sophisticated, savvy blend that's boldly energetic and inventive.
The Taal Tantra Experience came out of a 2001 meet between Tanmoy Bose and a group of German jazz musicians. Those in the know on the Indian music scene will know tabla player and vocalist Tanmoy Bose from his work with Ravi Shankar, Anoushka Shankar and Amjad Ali Khan and his work on the Grammy award winning Concert for George. Rounding out The Taal Tantra Experience's sound are percussionist Andreas Weiser, guitarist Kai Bruckner, bassist Max Hughes and saxophonist/flutist Tilman Dehnhard.
Opening with some impressive vocals on the track "Khadandam," Sixth Sense wows the listener with full-bodied tracks that rest on an edge where east meets west. Brightly colored jazz tracks spiced with the mysteries of the Indian raga make for a pleasing mix. Fleshing out "Khadandam" with plush guitar, sax and sharply worked percussion against the sweeping musical landscape complete with dishy guitar lines and sanfona by Lukas W. Vargas on "It's Been a Long Way" makes unpredictably wonderful.
Other gems include the tabla and brass fired "Bhairabi," the swanky fueled "Between the Worlds" and the darkly mysterious track entitled "The Cobra." "Howrah Bridge" is another stunning track, steeped in a mix of flute, tabla, sarod, guitar and bass with Mr. Bose's fiery vocals. Fans will also want to check out "What We Need" to get a listen of Debashish Bhattacharya on the slide guitar.
The musical mix of Sixth Sense seduces the listener with this intriguing blend and soars with consummate musicianship.
Author:
TJ Nelson
TJ Nelson is a regular CD reviewer and editor at World Music Central. She is also a fiction writer. Check out her latest book, Chasing Athena's Shadow.
Set in Pineboro, North Carolina, Chasing Athena's Shadow follows the adventures of Grace, an adult literacy teacher, as she seeks to solve a long forgotten family mystery. Her charmingly dysfunctional family is of little help in her quest. Along with her best friends, an attractive Mexican teacher and an amiable gay chef, Grace must find the one fading memory that holds the key to why Grace's great-grandmother, Athena, shot her husband on the courthouse steps in 1931.
Traversing the line between the Old South and New South, Grace will have to dig into the past to uncover Athena's true crime.