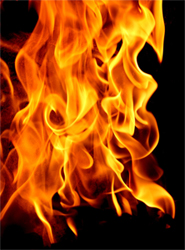 A fire last night (August 8th) at the Sony DADC warehouse in London, during the riots, has severely affected the British independent music community. The Sony DADC warehouse serviced the physical distribution for PIAS, one of the largest distributors of indie music in the UK and Ireland.
The three-story building, which was owned by Sony DADC was located in the London borough of Enfield. It burned to the ground on Monday night. PIAS handled the inventory for over 150 record labels, as well as numerous DVD and game companies.
There is great concern in the indie community that the loss of most of the stock of many record labels, will mean that they will go out of business.
"The London riots have caused the destruction of a warehouse in North London housing many of the UK's independent labels and artists," said a press release issued by The Association of Independent Music (AIM). "All the stock has been destroyed in the fire. This will lead to much hardship for the artists and labels affected. "
Affected companies include: Accidental Records, Beggars Group, Big Dada, Brille, Bronzerat, Brownswood, Buzzin' Fly, Domino, Duophonic, Fabric, Full Time Hobby, Hassle, Independiente, Kartel, Lucky Number, Mute, New World, Ninja Tune, One Little Indian, Red Grape Records, Rekids, Respect Productions, Rough Trade, Ruffa Lane, Sideone Dummy, Smalltown America, Sunday Best, Taste Media, Union Square, Urban Torque, Warp, Xtra Mile.
"This is a disaster for the music community, but with the fans' help, labels and artists will survive," said Alison Wenham, Chairman and CEO of AIM. "Please show your support for the music community by buying a digital album from an independent label today."
Some of the labels affected produce world music: Brownswood Music, the London-based indie label from globe trotter Gilles Peterson (Danay suarez, Havana Cultura, Owiny Sigoma Band) and Independiente (Tinariwen).
Author:
World Music Central News Department
World music news from the editors at World Music Central