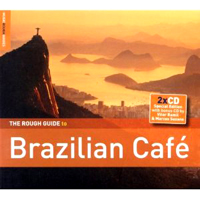 Various Artists
Rough Guide to Brazilian Café (World Music Network, 2011)
Brazil is home to a rich array of music forms, ranging from samba and forro to gaucho and embolada. A DJ-led revolution is spawning other hybrid forms of music as well, with club remixes and electronic re-rubs. This compilation moves far beyond beach-bikinibossa and dips into other genres such as siría from Tocantíns, gaúcho milonga from the Argentinian border, guaraní-influenced rhythms from the edges of Paraguay, and endless versions of canção and caïpira from the Bahian and Mineiro interiors.
The album begins in fine style with the superbly jazzy track Comadi by Ceú and Beto Villares. The dreamy ambient mood carries on with Errare Humanum Est by Seu Jorge and then becomes decidedly more funky with Ela É Brasileira by Seu Jorge and Wilson Simoninha. Other tracks which stand out include the pretty instrumental acoustic guitar piece by Marcel Powell Trio, O Morro Não Tem Vez. Marcel Powell is the son of the late maestro of Brazilian acoustic Afro-guitar, Baden Powell.
Jota Canalha introduces a more familiar samba piece with Lero-Lero Blá-Blá-Blá Ou Papo De Ong. Smooth electro-groove sounds are featured in the classic track Queria from Bossacucanova featuring Marcos Valle. The compilation includes another fine instrumental piece, A Cara Dele, with Jose Carlos Batista dos Santos on trombone. Another high-energy track with samba rock is Mulata Rainha by Jair Oliveira. Other featured artistes include Danilo Caymmi, from one of the most musical families in Brazil (father Dorival, mother Stella, and siblings Dori and Nana).
As if all these aren't enough musical goodies, the album comes with a bonus CD featuring Vitor Ramil and Marcos Suzano. Their pleasant vocals, skilful percussion and ambient mixing really stand out. Our picks on this CD include the pleasant Viajei and Astronauta_Lirico, as well as the more up-tempo O Copo e a Tempestade and A Ilusao da Casa.
Author:
Madanmohan Rao
Madanmohan Rao is an author and media consultant from Bangalore, and global correspondent for world music and jazz for World Music Central and Jazzuality. He has written over 15 books on media, management and culture, and is research director for YourStory Media. Madan was formerly World Music Editor at Rave magazine and RJ at WorldSpace, and can be followed on Twitter at @MadanRao.