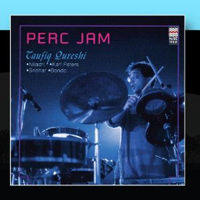 Taufiq Qureshi
Perc Jam (Music Today)
Taufiq Qureshi, youngest son of legendary tabla maestro Ustad Allahrakha and brother of tabla wizard Ustad Zakir Hussain, is an accomplished composer and percussionist in his own right. The 5 tracks on this album provide close to an hour of fine fusion landscapes.
We recommend the tracks "Flight of Freedom" and "Beyond the Seven Seas." The piece "Madhuti" stands out as well. The lineup includes Niladri Kumar on sitar, Karl Peters on bass, Sridhar Parthasarthy on South Indian percussion, Brasilian percussionist Bondo Fernandez, and Nishad on keyboards.
We also recommend Taufiq's other albums Rhydhu, Taalisma and Bombay Fever.
Author:
Madanmohan Rao
Madanmohan Rao is an author and media consultant from Bangalore, and global correspondent for world music and jazz for World Music Central and Jazzuality. He has written over 15 books on media, management and culture, and is research director for YourStory Media. Madan was formerly World Music Editor at Rave magazine and RJ at WorldSpace, and can be followed on Twitter at @MadanRao.