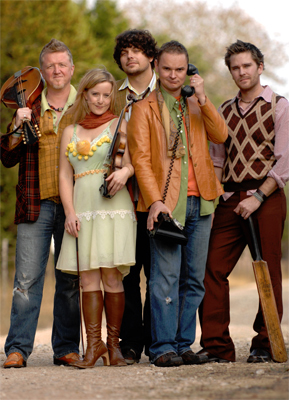 Gaelic Storm is scheduled to perform on Friday, February 17, 2012, 8:00 pm at the University of Wisconsin-Madison.
Gaelic Storm rocked the Union Theater in 2011, playing to an enthusiastic sell-out crowd. We welcome them back for another night of fantastic Celtic music.
After a start playing monthly gigs for friends at Santa Monica's O'Brien's Tavern in 1995, Gaelic Storm's popularity skyrocketed when it appeared in James Cameron's Titanic as the Celtic party band in the ship's steerage. Since then, the band has amassed a large, loyal and ever-growing following. The band has flourished in an extreme DIY fashion by not only launching their own label, Lost Again Records, and releasing their albums themselves but also by designing all their own album art, posters and advertisements.
While Gaelic Storm plays Celtic music that hearkens back to the traditional music of Ireland, they are hardly traditionalists, adding modern sounds and drawing influences from American rock and pop as well as music styles from around the world. The band has made countless television and radio appearances, and there are official videos and heaps of fan-posted live YouTube clips (often with the crowd singing as loud as the band).
Ticket Prices:
General Public: $32
Reduced Prices for Union Members & UW-Madison Faculty/Staff
UW-Madison Students: $10
Author:
World Music Central News Department
World music news from the editors at World Music Central