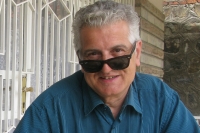 Frenchman Francis Falceto is the winner of WOMEX 2011's Professional Excellence Award. Francis Falceto is the originator and curator of the Ethiopiques series of CDs and the music of Ethiopia's greatest champion.
He will receive his Award on Sunday morning, 30 October 2011, at the Awards Ceremony accompanied by a WOMEX Networking Breakfast, both open to WOMEX delegates only. The laudation will be offered by writer and producer Joe Boyd (UK).
"Falceto has single-handedly brought Ethiopian music to the forefront of world music consciousness," says Joe Boyd. "In addition to the CD series that now numbers 27 volumes, he has organized concerts and tours, an annual festival in Addis Ababa, published the book "Abyssinie Swing", created a documentary film of the same name and brought Western musicians intrigued by the music to Ethiopia.
Having first heard an Ethiopian recording in 1984, by 1986 he had visited Addis Ababa twice and managed to escape the strict controls of the military government bringing with him both the singer Mahmoud Ahmed (for whom he had arranged an appearance at the Avignon Festival) and the tapes of Ahmed's great Ere Mela Mela album, soon to be released on Crammed Discs.
By the time his partnership with Buda Records for the Ethiopiques series began in 1997, Francis had tracked down master tapes from the most important labels and producers of the Golden Age. The huge impact of the series is well known. Jim Jarmusch is obviously a fan, having used an Ethiopiques track for the title music of his Bill Murray film Broken Flowers. Patti Smith, Elvis Costello and Tom Waits, have all gone on record with their adoration of the CDs. But it perhaps less appreciated how Francis' attention to detail, from programming to design, to notes, to mastering – have defined this body of work that has become virtually the sole representation of an essential musical culture to critics, presenters and an ever growing legion of fans.
If Falceto's work was limited to the curation of this brilliant series of discs, that alone would be a claim to fame and to our respect. But, much as he adores the legacy of those Golden Years, it is the living music that is most important to him. The brilliant orchestras that we hear on those Golden Era recordings have evaporated and few young musicians have emerged to take their place; drum machines and synthesizers are everywhere.
Francis' work in building a road out of this cultural dead-end street is perhaps his most important accomplishment. Aware of the impact Ethiopiques was having on musicians in Europe and North America, he has worked tirelessly to bring groups such as the Either/Orchestra, Le Tigre des Platanes, X, and the Imperial Tiger Orchestra to Addis to take part in festivals and to work with local singers and musicians. Ethiopians are astonished and stimulated by the fluency of these foreigners in performing their complex music.
The business of "world music" runs not on the fuel of financial ambition but on the fumes of musical passion. Francis Falceto has set a new standard for aficionados: he has chosen for us with impeccable taste, he has packaged and presented the music in a way that stimulates the market, he has followed through with concerts that provoke and inspire both within Ethiopia and without. He has provided us with a textbook example of the perfect pursuit of a passion."
Author:
World Music Central News Department
World music news from the editors at World Music Central