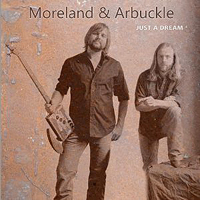 Moreland & Arbuckle
Just a Dream (Telarc International, 2011)
Grab keys, your sunglasses and forget the map because guitarist Aaron Moreland and vocalist/harpist Dustin Arbuckle are back to take you for a ride with their second installment on the Telarc label. Set for release on August 23, 2011, Just a Dream is every hard-edged blues junkie's musical fix for the summer. Following up on their debut Telarc recording Flood, Moreland & Arbuckle, fresh from touring and brushing sleeves with likes of ZZ Top, George Thorogood, Buddy Guy and Los Lonely Boys, are tearing up a new set of kick ass blues with special guest Steve Cropper on Just a Dream.
Aaron Moreland puts Just a Dream this way, "The clear objective was to retain the gritty, raw feel that we created on our prior release, but push everything up about four notches as far as sound quality, the selection of songs, the production and every other aspect of the record."
Kicking up their sound up a couple of notches seems tame when the reality is that Just a Dream sucks all the air from the room. With razor sharp tracks like "Purgatory," "Travel Every Mile" and the incendiary "Heartattack and Vine," Just a Dream is all gritty, garage band goodness wrapped around blowsy country blues creating a sound that is wicked roadhouse wonderful. "Shadow Never Changes" and "White Lightnin'" with the legendary Steve Cropper just ramps up Moreland & Arbuckle's rep.
Moreland sums up by saying, "This is the best record of our careers…" I'm not sure listeners would survive anything better, but I'd bet they'd give it a go.
Buy the album or MP3 downloads:
Author:
TJ Nelson
TJ Nelson is a regular CD reviewer and editor at World Music Central. She is also a fiction writer. Check out her latest book, Chasing Athena's Shadow.
Set in Pineboro, North Carolina, Chasing Athena's Shadow follows the adventures of Grace, an adult literacy teacher, as she seeks to solve a long forgotten family mystery. Her charmingly dysfunctional family is of little help in her quest. Along with her best friends, an attractive Mexican teacher and an amiable gay chef, Grace must find the one fading memory that holds the key to why Grace's great-grandmother, Athena, shot her husband on the courthouse steps in 1931.
Traversing the line between the Old South and New South, Grace will have to dig into the past to uncover Athena's true crime.