A glaring anomaly concerning the annual ARIA Awards — the Australian equivalent of the Grammy Awards — is that Joseph Tawadros, one of the country's finest instrumentalists, has yet to win a gong. It's not for want of trying or lack of the right product either. The young Egypt-born maestro of the Arabic oud has received no fewer than five nominations for Best World Music Album in the past seven years — for Storyteller (2004), Visions (2006), Epiphany (2007), Angel (2008) and The Prophet (2010) — without getting the nod.
This master musician had two strong strings to his bow last year, with a hot-off-the press new release nominated in the Best Jazz Album category. The Hour Of Separation and The Prophet are related, and yet very different. The latter comes from a verse in poet Kahlil Gibran's book The Prophet, which inspired the earlier album. Two tracks from the album were renamed, revamped and re-recorded in an expanded setting on The Hour Of Separation — a wholly remarkable album, which is not only the artist's most significant work to date but arguably one of the finest collaborative recordings ever made involving oud.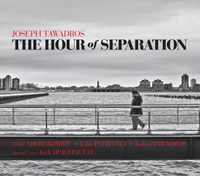 Recorded over two days four months ago in a New York City studio, The Hour Of Separation offers a musical dialog of the highest quality between Joseph Tawadros and his percussion-playing brother, James, and three bona fide greats of American jazz — guitarist John Abercrombie, bassman John Patitucci and veteran drummer Jack DeJohnette, who's performed with leviathans such as Miles Davis, John Coltrane and Thelonious Monk. "Who ever would have thought that I would have an album out with those three guys," he declares. "From the amount of times I have to pinch myself, I'm walking round with some big bruises," he laughs.
Explaining the genesis of this unlikely liaison, the oud maestro reports: "I first met John Abercrombie in New York in October '09 when James and I were performing with the Australian Chamber Orchestra. He invited us to the Birdland jazz club, where he was performing with his quartet." They had discussed recording an album before, but originally it was going to be as a duo. "John Patitucci jumped on board pretty quickly and that was amazing. I had emailed Jack DeJohnette earlier about the project, but received no response until I was in New York, when I was honored to discover that he was interested and available. He came and recorded some tracks as a special guest. I kept thinking, that's the drummer with Miles Davis! I always liked the album Bitches Brew, so to have him on board, playing my tunes, was beyond belief."
Joseph and his bro stayed a few nights with Abercrombie leading up to the studio session. "He's one of the nicest and most laid back musicians I've met. We rehearsed quite extensively, which made me learn more about the man's genius. There are improvisers who inspire and there are improvisers that try and compete. John is the first example," he says admiringly.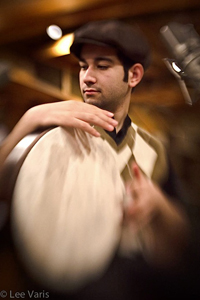 John Patitucci, he adds, "is one of those high calibre musicians who can read music at lightning speed, so when he came into the rehearsals he really formed a rock solid partnership with James." A virtuoso on req (a tiny Egyptian tambourine), the younger Tawadros also struck up an immediate rapport with Jack DeJohnette, reports Joseph. "There's a great duet between the two called 'Conversation in Time' … Jack came out of the isolated studio booth high five-ing James … the sound engineer doing the recording declared: 'There he is 21 years of age and holding his own with Jack DeJohnette!"
Elsewhere on the album, on 'Give or Take', there's a duet between Patitucci's bass and Tawadros's oud. "I actually used the lowest registers of each instrument and surprisingly the same percussive sound of the strings hitting the fingerboard occurred," Joseph reveals. "I should confess that I did use a tuning in the oud's lower register so I could match it, but on other tracks the bass is also very complementary to the oud — it fills in the real low register whereas the oud kind of covers a cello/viola range. The guitar has the upper. Add percussion to the mix and you have a very full sound."
Tracks such as 'Forbidden Fruit', 'Fly Away' and particularly 'Nostalgia' feature some exquisitely empathetic exchanges between Joseph's oud and Abercrombie's electric guitar. "We had a good understanding," Tawadros happily concedes. "We used our ears, we looked at each other, we learned about each other's playing and we inspired each other, and that's why you can't tell who's leading who. There's a magical balance which you really can't analyze."
Joseph composed the bulk of the pieces on The Hour Of Separation with the American luminaries specifically in mind. "I think that's where all successful collaborations lie," he says. "It's about listening a lot to the players, and learning about their strengths, what makes them who they are — their sound, tone, technique, dynamics etc — and working on that. If you compose music around individual player's strengths, then the playing will be strong; hence the album and collaboration will be strong.
After rehearsals, I listened to the recordings a lot and worked through forms and structures in my head and changed previous ideas — who would solo where and other arrangement ideas. It's important to keep the music alive in your head until you record it and grow it further before the recording. In saying that, there were things that changed in the studio, and some unintentionally.
Sometimes there's a magical musical force that appears between improvisers, where things just happen for the best. Certain times in the record there were unplanned jam sessions in pieces and form changes which were not talked about but felt once the that red light was on. That's the beauty of having musicians like that — it's the buzz and the understanding that one gets from mutual respect and admiration.
There were certain ideas we wanted to realize in each track. As a composer you envisage how someone will play your music and how they will improvise on the material. But you have to direct, you have to give the idea, and based on what you tell them each musician will interpret what you say in their own way. I never direct James any more because he always surprises me. For a guy so young, his choices are excellent. He impressed the other musicians, the sound engineer and all involved."
Joseph swears he didn't have any objective in mind with The Hour of Separation other than to enjoy himself and create music that was seamless. "The fact that I got to be in the company of those great musicians, share a laugh with them and have them perform my music was more than enough. Getting to listen to John Abercrombie and John Patitucci three metres away was a privilege. They are serious jazz players, using jazz elements, but I wouldn't classify the album as jazz. In fact, I wouldn't classify it as anything. It's music and I hope it appeals to people in certain ways. I'm hoping people can relate to the emotional aspect of separation but also to the element of celebration and growth. It's about avoiding clichés and creating an understanding about the music that is then transformed naturally to the listener."
Humor, Tawadros maintains, was a salient aspect of the symbiosis. "I like to have a laugh. Humor is a brilliant icebreaker and we had many great laughs in the studio. It's about creating a friendship. Because there is a relaxed atmosphere, people work at their best. Fortunately, my jests were taken in good spirit. For example, when James and I started rehearsals with John Abercrombie, I said to him: 'You know Abou – Cromb in Arabic means 'Father of Cabbage'.' He loved that. We often called him 'Vator von Cabbage' or 'Vator von Gemuse' — 'Father of Vegetables' in German — and he often signs off his emails like that. I remember hearing a quote, which I apply in concerts and life: 'Take the music seriously and not yourself'. It's a great way to look at life and music."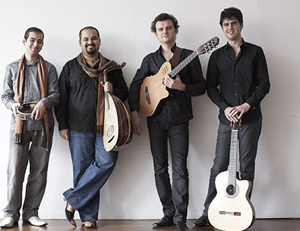 Continuing in a philosophical vein, Tawadros says he is blessed to have oud as his instrument and to have been reared in Australia, where he has lived for 24 of his 26 years. "Cultures are at our fingertips here. I am very proud of my Egyptian heritage, but I'm also inspired by Australia, its environment and its people. If I were living in Egypt, I'm sure my oud playing would have been different. I was able to study at the University of NSW and learn about Western elements and learn the western music lingo, and for that I'm grateful."
"The magic of the oud is in its Arabic voice," Joseph emphasizes. "Whichever context you put it in, it takes you to the Middle East. It's a symbol of the Middle East and there's a reason why. It has a mystical and soulful sound and that's what the West is attracted to." So what distinguishes his sound? "My compositions are quite different," he responds, "and I like utilizing the whole oud. I have a seven-course oud — normal ouds have six — so I have a wider lower range. In Egypt, the legendary oud players live in the same area but sound totally different. They are only bound by the maqam system — a modal system of scales. Technique, articulation and tone are what each player brings to the table. There is also a high degree of improvisation and, of course, this does not require notation.
There was never a notation system in Egypt. It's an aurally learned tradition. With more listening, more experiences, more performances, you change a lot from year to year. I think it's also important for an emotion change as well. I'm a strong believer of the connection between music and emotion. For instance, heart break. I think this is one of the greatest things to ever happen to a musician. As hard as it is, I welcome it. It changes your playing, inspires you and allows you to grow."
For many Australians, Joseph Tawadros is the personification of oud. "I do feel the oud is me," he admits. "It is my truth. I probably express more than people know through my melodies and that's the beauty of music — it can be secretive to the composer but mean something else to another."
• The above interview first appeared in Rhythms, Australia's only dedicated roots music magazine, for which the author is World/Folk correspondent.
Official web site: josephtawadros.com
Author:
Tony Hillier
Tony Hillier is based in Cairns in far north Queensland, from where he has been actively involved in all areas of the music industry in Australia for the past 25 years, primarily as a journalist, writing for national publications such as the Weekend Australian and Rhythms magazine (for which he is World Music & Folk correspondent), and performing locally, nationally and internationally with the bands Kamerunga and Snake Gully. He has also presented and produced World Music and Folk music programs for ABC Far North, Port Douglas Radio and 4CCR-FM, netting a CBAA Best Specialist Music Program Award with the last-named for a documentary on flamenco. Before coming to Australia, he was a racing journalist of some repute in the UK, where he wrote a column for the London Evening Standard under the nom-de-plume of Ajax.