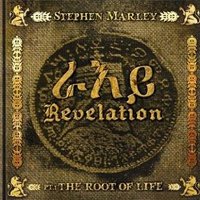 Stephen Marley
Revelation Pt. 1 The Root of Life (Tuff Gong / Universal Republic, 2011)
There's no denying that the recorded works of Bob Marley's children have at times been spotty, hit-and-miss affairs. Of course, when it's fair game to criticize someone for everything from sounding too much like Bob Marley to sounding too little like Bob Marley to straying too far from the reggae roots Bob Marley planted, it can be hard to win.
Putting all excess baggage of the family name aside, the new release by Stephen Marley (who's always been considered the closest to Bob vocally and I'm inclined to agree) is a crackling good disc of primarily roots reggae that may well be his best work to date. And yes, I know he's recorded only one other album under his own name, but he's also had a hand in many projects within and without the Marley family that any complete discography should include.
Stephen starts Revelation Pt. 1 The Root of Life off in nyabinghi mode with "Made in Africa," praising the Motherland's glory alongside the cast of the Broadway musical "Fela" and the (unfortunately obtrusive) rapping of someone named Wale. From there, a rich roots wave is ridden through "False Friends," "Break Us Apart" (featuring Capleton in good form), "Can't Keep I Down," "No Cigarette Smoking" (with Melanie Fiona sweetly chiming in) and "Freedom Time."
"Jah Army" goes more ragga and features Buju Banton in a larger supporting role than is really necessary, but the remainder of the disc flows satisfyingly between conscious tunes, a few passages detouring into dancehall and lovers rock that includes the truly beautiful "Pale Moonlight." As is typical, there are other Marleys in on the action: Damian helps make "Tight Ship" tight and Ziggy joins his brethren on a striking version of the previously obscure Bob Marley song "Selassie is the Chapel."
The backing tracks, provided by players like bassist Chris Meridith, drummer Wilburn Cole, percussionist Sticky Thompson and Stephen himself on a large measure of guitar and keyboards, sound modern without sounding cold, and are a smart fit with the similar warmth of Stephen's many vocal moods.
Revelation Pt. 1 The Root of Life is indeed something of a revelation, and very well done all around.
Buy the album or MP3 downloads:
Author:
Tom Orr
Tom Orr is a California-based writer whose talent and mental stability are of an equally questionable nature. His hobbies include ignoring trends, striking dramatic poses in front of his ever-tolerant wife and watching helplessly as his kids surpass him in all desirable traits.