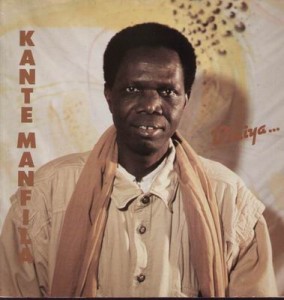 Renowned Guinean guitarist and composer Kanté Manfila died in Paris on July 20, 2011 following a long illness.
Kanté Manfila was born in 1946 in Farabanah, Republic of Guinea (West Africa), into a jali (West African Manding musicians and oral historians) family. He learned how to play the bala (balafon) and guitar while in Guinea. As a teenager he moved to Abijdan (Ivory coast) to live with an uncle. In the Ivorian capital he played guitar at social events.
Manfila studied at Abidjan's school of music with the support of a sponsor who liked his musical abilities. His main influences were Manding traditional music, blues and Afro-Cuban sounds.
In 1972 Kanté Manfila joined Les Ambassadeurs du Motel in Bamako (Mali) as lead guitarist and vocalist. That same year Malian singer Salif Keita (who had left the Rail Band de Bamako) also joined Les Ambassadeurs as lead vocalist. Although the band had an excellent reputation, the economic and political situation in Mali wasn't very good so in 1978 Kanté Manfila, Salif Keita, and other members of the group moved to Abidjan (Ivory Coast) and created Les Ambassadeurs Internationaux.
The Ivory coast-based band became really popular after only one year, with several hits in the national charts. Manfila's reputation grew internationally. For many years, Manfila and Keita had a productive collaborative relationship. It was Manfila who wrote many of Salif Keita's hits.
As the economy in Abidjan soured in the 1980s, Manfila moved to Paris (France). In 1987 he released one of his pivotal solo albums, Blues Kankan, which explored his Manding jali roots, featuring Mory Kanté. This was followed by Traditión in 1988 with Mory Kante on kora and Ibrahima Diabaté at bala. Diniya (1990) brought the funky and electric side of Manfila, combining Manding roots, blues, and funk. Manfila released his fourth solo album in 1995, Ni Kanu (Love). He was currently working on a new album titled Agnouma-Thaa.
In 2005, Mali's president honored Manfila with one of the highest awards in Mali, the chevalier de l'ordre national du Mali, for his role in the development of Malian music during the 1970s.
Watch one of Kanté Manfila signature guitar solos in this Les Ambassadeurs video from Malian television, early 1980s.
Author:
World Music Central News Department
World music news from the editors at World Music Central