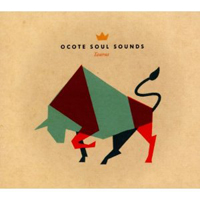 Ocote Soul Sounds
Taurus (ESL Music ESL 175, 2011)
Back with album number three, Ocote Soul Sounds (OSS) continue to combine Afro-Latin funk with a pre-digital sound suggestive of a time when music was more organic and less processed. Austin's Adrian Quesada and New York City's Martin Perna are the multi-instrumentalist masterminds of OSS and both bring their backgrounds into play, Quesada as a member of Latin outfits Grupo Fantasma and Brownout, Perna as leader of Brooklyn Afrobeat band Antibalas.
So you can bask in long instrumental stretches tinged with Latin vibes (enhanced by Perna's moody flute playing much of the time) and psychedelic ambiances as you await the occasional lyrical warning against authority ("STTP [Speak Truth To Power]") or media manipulation ("Pan Y Circo"). Other tracks, like the completely absorbing, Mulatu Astatke-ish "Pirata," forego words altogether and simply fill your mind full of echoey trance dances.
As much sonic substance as Taurus has, however, it gets many a point across through words as well. "En El Temblor," for instance, is a reminder of how tragically indiscriminate natural disasters like earthquakes can be, and the prickly alienation of "Guantanamo" is barely disguised by the sweetness of its melody.
Recorded in Austin and Washington DC with Eric Hilton of Thievery Corporation having a hand in the producing, Taurus wastes no time pawing at the ground but charges forth on the strength of grooves that won't quit, throwback sounds for a modern era and an approach that's only bullish when it comes to making music that's fresh and vital.
Buy the album or MP3 downloads:
Author:
Tom Orr
Tom Orr is a California-based writer whose talent and mental stability are of an equally questionable nature. His hobbies include ignoring trends, striking dramatic poses in front of his ever-tolerant wife and watching helplessly as his kids surpass him in all desirable traits.