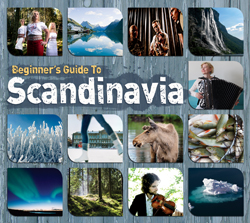 Beginner's Guide to Scandinavia is one of the most interesting world music boxed sets released this year. Produced by Stockholm-based freelance journalist Tatiana Rucinska, the music collection offers a wide view of the various musics produced in the Scandinavian region of northern Europe.
How did you come up with the concept of the Beginner's Guide to Scandinavia?
Tatiana Rucinska (TR) – It's part of a series of compilations "Beginner's Guide to", released by London-based independent label Nascente. With regards to this particular compilation, it's the first time that the various genres of Scandinavian music have been combined on one set. When I say Scandinavian, I am referring to Sweden, Norway, Denmark, Finland, Iceland and the Faroe Islands.
The boxed set includes three discs, Pop & Contemporary; Folk & Roots; and Jazz, Experimental & Atmospheres. How would you describe the styles included in each disc?
TR – The first disc, Pop & Contemporary, has a modern and quite refined sound. The music is produced using electronic instruments and sound equipment. The Folk & Roots disc uses mainly acoustic instruments and the result is more organic. Many of the pieces on this disc are traditional, as oppose to the first disc which is made up of original compositions. The third disc paints a more abstract picture of the Scandinavian (musical) landscape. It's sometimes dreamy, sometimes melancholic, sometimes otherworldly… My aim for the three discs was to find music that is timeless, that one can go back to again and again.
How long have you been listening to Scandinavian music?
TR – My first encounter with a Scandinavian artist was Björk, at the age of 14. Her music is quite seductive and it seduced me! I visited Iceland when I was 16 and was really inspired by the people and the land. When I was 19, I lived in southern Sweden for a year. I listened a lot to pop music radio then. The Swedish music industry wants their artists to break into the UK and US, hence most of them sing in English. I think this is a shame since the Swedish language is so lyrical and melodious. Admittedly, the strategy has been very successful rendering Sweden the world's third largest exporter of popular music.
Is there something that characterizes Scandinavian music?
TR – Whilst listening to music for the compilation, I realized that nature plays an important role in the overall sound of the music being produced here. People are surrounded by nature, even in the big cities, and this reflects in the authentic, organic and spacious qualities of the music. As with the unpredictability of nature and its variety and contrasts, the music can be unpredictable and dramatic too.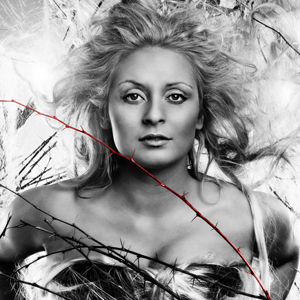 Tell us a little about the pop album disc 1 and the artists featured there.
TR – The compilation opens with the voice of the iconic Norwegian singer Kari Bremnes. It transports the listener to Scandinavia from the opening moments… Followed closely by Swedish singer and theatre actor Lars Demian, with an evocative piece about alcohol. Others featured on this disc include the pop-cabaret duo KOOP with singer Hilde Louise Asbjørnsen; Sweden's national hero, singer and songwriter Cornelis Vreeswijk, who despite his death in 1987 is still gaining popularity today with his sharp and witty lyrics; Norway's songwriting visionary Ane Brun; Iceland's Sóley (of Seabear) and Pascal Pinon; from Finland is Vuokko Hovatta with a piece that conjures up images of a traditional Finnish circus; and what I call Sweden's best-kept secret House of Trees.
Even though disc 1 is titled Pop & Contemporary, there are at least two artists that could be considered roots music artists, Valravn and Kimmo Pohjonen. Why did they end up in the Pop disc?
TR – The Folk & Roots disc is based on the acoustic sound and traditional music. The Pop & Contemporary disc features modern music with the use of electronic equipment, and the pieces are original and newly composed. Although Valravn and Kimmo Pohjonen incorporate traditional instruments and elements into their work, their music is very much the sound of today. As a similar example, Robert Johnson could be considered a roots music artist with his acoustic guitar and blues repertoire. Jimi Hendrix also plays the guitar, but he electrified and modernized the instrument to play new music with a new style that cannot be called roots music.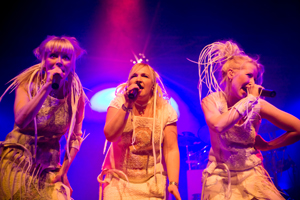 Disc 2 is the Folk & Roots, album. I saw familiar names but also quite a few discoveries for me. Tell us about the artists featured in this disc.
TR – I take great delight in discovering new artists. One has to dig patiently into the archives of underground labels to find buried treasure. A good example is the discovery of the Finnish indie-folk collective Kiila. When I first heard "Auringonlunta", my soul went on an unexpected journey. I had been listening to the recordings of the Fonal label, who have released some weird and wonderful stuff. This track could be from Okinawa, Japan or Tuva… it's very special. Other artists included on this disc are Eivør Pálsdóttir, Hedningarna, Värttinä, Maria Kalaniemi, Markku Lepistö, and a rapturous finale by the Norwegian hardanger fiddler Annbjørg Lien and her band.
The third album Jazz, Experimental & Atmospheres is the most eclectic and just as fascinating as disc 2. How did you come up with this selection?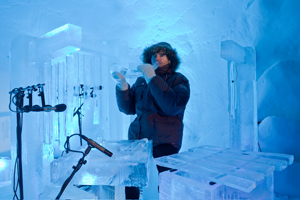 TR – I wanted one of the discs to be more free and undefined. And this is it. Artists featured here include the Swedish instrumental trio Bazar Blå; Norwegian ram's horn player and saxophonist Karl Seglem (an unusual piece combining jazz with folk traditions; truly inspirational); Swedish bassist Lars Danielsson with Norwegians pianist Bugge Wesseltoft and avant-garde trumpeter Nils Petter Molvaer; ice musician Terje Isungset (all his music is produced on ice and recorded in an igloo); the pioneering Swedish jazz trio e.s.t.; and Sámi artists Norwegian Mari Boine and Finnish Wimme.
Are there artists you had to leave out?
TR – I really wanted a track by Björk – a traditional Icelandic folksong which she recorded for Hector Zazou's album Songs from the Cold Seas. Unfortunately her management declined. I also wanted a track by Mari Boine from Universal but they declined too. However, I did find a wonderful track by Boine which has been licensed from Jaro. I had chosen a piece by the Swedish jazz pianist Jan Johansson, but the people who own the rights to his work denied usage. I did include a piano piece by Benny Andersson of ABBA and a magical piece by the young Icelandic pianist Agnar Már Magnússon.
Was it easy to license music for three discs?
TR – Yes – other than those I've mentioned above. I think the record companies involved, especially the independent ones, were keen to be part of such a project. It's good exposure for their artists since the compilation is distributed and marketed worldwide.
What's the reaction to the boxed set so far?
TR – It's been very positive. To quote a few: Lennart Wretlind, long-time music journalist and radio presenter at Sveriges Radio (Swedish equivalent to the BBC) "I can only give the highest marks to this collection, in which each track flows imperceptibly into the next, to build a complete and coherent picture of Scandinavia".
Phillip Page, director of Finnish artists' agency Hoedown "A very strong and interesting work. The main thing I notice and like is the general feeling and conceptual arc of each CD, but also the whole package. It flows very nicely together as one continuous experience".
Clive Davis, The Sunday Times "As a snapshot of a sprawling region, the playlist throws up more than enough treats and surprises to satisfy all but the most puritanical souls".
How do you see the current Scandinavian music scene?
TR – Musicians and music producers in Scandinavia are quite forward-looking. They're dynamic, innovative, and open. And passionate about their work. Sounding modern is an inherent quality of the music being produced here.
Are you working on new compilations? What's next?
TR – There is a compilation which I'm discussing with Nascente but I'm not allowed to reveal details yet. It's a female artist who has opened up Western ears to more "exotic" music…
What music are you currently listening to?
TR – I'm enjoying Otis Taylor – a most powerful artist. His music is so authentic, it hits you hard! I am also listening to Mix&dorp's album blues + beat – modern, hypnotic blues, very clever, and sounds fresh with every listen. When I need to sit back and relax, I listen to Mose Allison – an extraordinary musician – or the Neville Brothers' Yellow Moon, or music from the Sahara desert, for example Tinariwen's Radio Tisdas Sessions. I continue to be in awe of the Norwegian singer Ane Brun. She touches me in ways which not many female artists do these days.
What do you like to do during your free time?
TR – I live freely – listening to music (and selecting pieces for the online global jukebox SR Världen which I co-run), walking in the nature, watching films or reading. I've read some inspiring books by Thich Nhat Hanh lately, about mindfulness and living in the here and now. And I recently saw a veteran Indian mountain climber conquering his next peak (on TV). On reaching the top, he advised the world to "leave your computer and television screens and experience what nature has to offer!".
What country would you like to visit?
TR – I would very much like to visit the state of Texas. It seems to have such a distinct character. I'd like to meet the people and experience the landscape. I've heard it varies from forests to prairies to swamps to desert. I'd like to visit the coast too! Austin is said to have a vibrant music scene, and spectacular nature nearby – the famous Texas Hill Country. The area's historical links with Mexico fascinate me.
Which is your favorite city?
TR – Stockholm, no doubt about it. I've lived here for seven years now; it's a beautiful place. I feel inspired to wake up here every morning. When I travel abroad, one of the best things is coming back to Stockholm! It's a lively city with plenty going on. It has a nice pace – not too fast, not too slow. Lagom is the Swedish word for "just right". I need to be surrounded by nature to feel alive, which is probably one of the main reasons why I feel so at home here. Stockholm is a modern city, but they've built it to be spacious, uncluttered and green.
What was the first big lesson you learned about the music business?
TR – Don't let the answer "no" set you back. Be determined and gently persistent, believe in your musical instincts, and don't limit what you listen to – listen to as much as possible! Imagine music as a whole, without the genres and the boxes. That way you're more likely to hear the music for real, as it is meant to be heard. And you may hear and feel things in ways that you may not have otherwise.
Beginner's Guide to Scandinavia (3CD box set) was released by British label Nascente in June 2011.
Born in London to Polish parents, Tatiana Rucinska has been living in the Swedish capital, Stockholm, since 2004. Upon discovering the radio dial at the age of six, she has been fascinated in music, particularly popular music forms. When she was 15, she began to realize that there was much more to popular music than the Anglophone styles being played on the radio.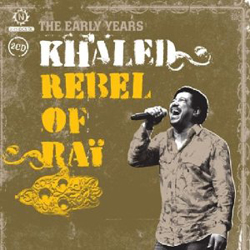 She became particularly interested in Algerian music, and at the age of 19 began a 15-year long career as a professional DJ of Algerian, Moroccan, Tunisian and French (beur) music. In 2009, she compiled "Khaled – Rebel of Raï", a 2CD set featuring the best of Khaled's early works. It has since become a bestseller.
Tatiana listens to and feels passionately for all styles of music. She currently works for UK music magazine Songlines and for Sveriges Radio (Swedish equivalent of the BBC) where she is music programmer for the Internet's 24-hour global jukebox SR Världen and contributor to the weekly national radio program Klingan.
Full track listing:
CD1. Pop & Contemporary
1 Kari Bremnes – Egentlig en Danser (Nor) 2 Lars Demian – Alkohol (Swe) 3 KOOP feat. Hilde Louise Asbjørnsen – Strange Love (Swe/Nor) 4 Bo Kaspers Orkester – Innan Allt Försvinner (Swe) 5 Vuokko Hovatta – Aletta (Fin) 6 Sóley – Theater Island (Ice) 7 Cornelis Vreeswijk – Samba för Pomperipossa (Swe) 8 House of Trees – Working Man's Song (Swe/UK) 9 Pascal Pinon – En þú varst ævintýr (Ice) 10 Ane Brun – To Let Myself Go (Nor) 11 Niko Valkeapää – Birrat Birra (Nor/Fin) 12 Valravn – Seersken (Den/Faro) 13 Kimmo Pohjonen – Kaluaja (Fin)
CD2. Folk & Roots
1 Eivør Pálsdóttir – Mín Móðir (Live) (Faro) 2 Kiila – Auringonlunta (Fin) 3 Sanna Kurki Suonio – Tuulen Nostatus (Fin) 4 Hedningarna – Räven (Swe/Fin) 5 Värttinä – Päivän Nousu Nostajani (Fin) 6 Markku Lepistö – Myrskylintu (Fin) 7 Maria Kalaniemi – I Fjol (Fin) 8 Sigrid Moldestad – Gåta (Nor) 9 Morild – Der Stode Tre Skalke (Den) 10 Anna Pálína & Draupner – Húfan Dýra (Ice) 11 Phønix – Mallebrok (Den) 12 BOOT – Samu (Swe) 13 Annbjørg Lien – Korstog (Nor)
CD3. Jazz, Experimental & Atmospheres
1 Bazar Blå – Stilla (Swe) 2 Karl Seglem – Mårblå (Nor) 3 Unni Løvlid – Bak Vaker Verda (Nor) 4 Lars Danielsson with Bugge Wesseltoft & Nils Petter Molvaer – Judas Bolero (excerpt) (Swe/Nor) 5 Terje Isungset – Fading Sun (Nor) 6 Islaja – Aallot Ja Äänet (Fin) 7 Agnar Már Magnússon – Heimkoma (Ice) 8 Benny Anderssons Orkester – Sång från Andra Våningen (Swe) 9 Gjermund Larsen Trio – Vals til Hans (Nor) 10 e.s.t. (Esbjörn Svensson Trio) – From Gagarin's Point of View (Swe) 11 Henrik Andersen – High Five (Den) 12 Wimme – Gierran (Fin) 13 Mari Boine with Inna Zhelannaya & Sergey Starostin – Dás Áiggun Cuozzut (Nor/Rus)
Buy the album:
Author:
Angel Romero
Angel Romero y Ruiz has been writing about world music music for many years. He founded the websites worldmusiccentral.org and musicasdelmundo.com. Angel produced several TV specials for Metropolis (TVE) and co-produced "Musica NA", a music show for Televisión Española (TVE) in Spain that featured an eclectic mix of world music, fusion, electronica, new age and contemporary classical music. Angel also produced and remastered world music albums, compilations and boxed sets for Alula Records, Ellipsis Arts, Music of the World.