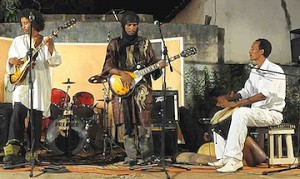 Tuareg desert blues rockers Tamikrest are set to perform live at the Barbican in London this Saturday 23 July at 6:15 pm at the Blaze Festival. As an appetizer we present the band's official video Aratan N Tinariwen.
Tamikrest have just released a second album titled "Toumastin". In 2010 their debut album "Adagh" generated a buzz and was met with enthusiasm from fans and critics alike who agreed that these young musicians are focusing the rebellious power of rock music in their own special way.
Tamikrest are from Kidal, a remote desert town in the northwest of the Sahara, some 2,000 kilometers north of Bamako (Mali). The band members are all Tuaregs, a group of people that is spread all over North and some of West Africa, i.e. Niger, Mali, Algeria, Burkina Faso and Libya. In ancient times the Tuareg were the proud rulers of the Sahara, but their territory was divided in different countries and they had to fight long and hard for independence. Between 1990 and 1995 this fight evolved into a bloody civil war.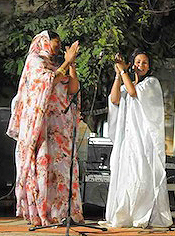 After the war many of the rebel fighters traded the Kalashnikovs and hand grenades for guitars and microphones. The band Tinariwen is the most prominent example for the unusual establishment of peace through the spirit of music. But their mission is carried further in their songs. The members of Tamikrest are substantially younger than Tinariwen's and they have not actively fought in the war, but there is a close resemblance between both bands. Just like Tinariwen Tamikrest have found a way to translate the pulse of the Blues – whose roots lie in North and West Africa – back to the Tuareg language Tamashek. They take generators deep into the desert to have electricity for their guitars in search for the perfect synthesis of their traditional ritual drumming with the music of Jimi Hendrix and Bob Marley.
Tamikrest's leader Ousmane Ag Mossa is quick to admit his influences: "When I was young I listened to a lot of traditional Tuareg music as well as Tinariwen. There was no other music. I started to learn the guitar around that time and it was only in 2000 that I had access to cassettes of Bob Marley and Dire Straits. That changed my musical vision completely and I stopped to classify music. Music is just music, no matter where it comes from. Music is just too big for me to comprehend in its entirety. My goal is to broaden my horizon step by step."
Fassous Tarahnet Music Video (live)
Tamikrest are on a trip into the infinite world of music. When the band was founded in 2006 they had a hard time getting exposure in their homeland as it proved to be difficult for music with ancient traditions in a country that is flooded with Western-influenced hip-hop and pop. Things changed abruptly when they played the Festival Au Desert in 2008 and met with the American/Australian band Dirtmusic made up of Chris Eckman (Walkabouts), Chris Brokaw (Come) and Hugo Race (Hugo Race & True Spirit).
Ousmane talks about the fateful meeting: "We jammed in tents, open air in the desert sand and on stage. This has extended my musical knowledge tremendously and from that point on I played my guitar in a different way. Through Dirtmusic we had the chance to work in a professional studio for the first time. There was no way had we would let that opportunity pass, so we traveled the long way from Kidal to Bamako."
Electronic Press Kit Video
With their second album "Toumastin" the young Tuareg rebels create their own universe using even brighter colours. The enchanted ancient mystique of the songs captures the ear immediately, but as the music carries on the band bridges the gap between the African Blues and hypnotic dub, psychedelic funk and an almost supernatural kind of desert garage. The guitars are more offensive, the groove deepens and the Tamashek chants are merging with the meandering guitar riffs like a caravan voyage through ancient times. Tamikrest are ready to embrace the future while proudly maintaining the rich tradition of their folk.
Recordings available:
Author:
World Music Central News Department
World music news from the editors at World Music Central