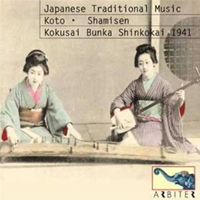 Various Artists
Japanese Traditional Music: Koto – Shamisen | Kokusai Bunka Shinkokai (World Arbiter, 2011)
Traditional Japanese music buffs should check out the third installment of World Arbiter's release of the 1941 recordings of the Kokusai Bunka Shinkokai – masters of the koto and shamisen. A treasure trove of the artists born in Meiji period, Japanese Traditional Music: Koto – Shamisen has some surprising goodies that will surely appeal to both aficionados and new listeners alike.
With 24 tracks by some of Japan's most revered musicians and an extensive liner note booklet, this CD reveals a rare collection of recordings, thought to exist in only two surviving sets after the ravages of World War II. Originally part and parcel to five volumes, each with twelve 78 rpm recordings, this collection was part of Japanese musicologist project intended to capture the country's refined musical culture. When World War II bombing started the stored collections disappeared. It was film historian Donald Ritchie who handed one of the two surviving sets to Beate Sirota Gordon, a contributor to the Japanese constitution under Douglas MacArthur, who eventually passed these precious recordings onto the World Arbiter label.
Some of the gems on this recording include "Hien No Kyoku" based on a Chinese poem from the Tang period, the delicate "Shochikubai" with koto player Yonekawa Fumiko and shamisen players Kawase Satoko and Fukuda Eika and the brilliant "Mikuni No Homare" with koto players Yonekawa Chikatoshi and Kato Juko. "Kumagai Jun'ya No Dan" describes a battle between the Keike and Genji clans and is simply a wonderful piece of Japanese theater and music, as is the love story of "Nozaki-mura No Dan."
Fans should also check out the doomed story of "Tobibeyama" with Miyazono Senhiro and shamisen player Miyazono Senyae, "Ichikawa Yamauba from the kabuki play "Takigi Ou Yukima No Ichikawa" and the stunning "Aki No Irokusa," an 1845 celebratory composition for the samurai lord Nanbu clan in Azabu.
Author:
TJ Nelson
TJ Nelson is a regular CD reviewer and editor at World Music Central. She is also a fiction writer. Check out her latest book, Chasing Athena's Shadow.
Set in Pineboro, North Carolina, Chasing Athena's Shadow follows the adventures of Grace, an adult literacy teacher, as she seeks to solve a long forgotten family mystery. Her charmingly dysfunctional family is of little help in her quest. Along with her best friends, an attractive Mexican teacher and an amiable gay chef, Grace must find the one fading memory that holds the key to why Grace's great-grandmother, Athena, shot her husband on the courthouse steps in 1931.
Traversing the line between the Old South and New South, Grace will have to dig into the past to uncover Athena's true crime.