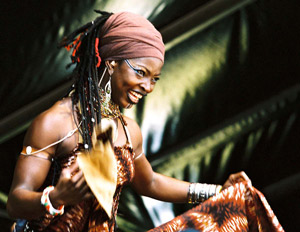 Dobet Gnahoré, a singer, dancer and percussionist from the Ivory Coast, will perform Friday, November 11, 2011 9:00 pm at The Sett, Union South, in Madison, Wisconsin.
Dobet Gnahoré inherited the force of the "Bété" tradition from her father, Boni Gnahoré, a master percussionist who plays with the Abidjan-based Ki-Yi Mbock Company, directed by Werewere Liking.
From Manding melodies to Congolese rumba, from Ivory Coast Ziglibiti to Cameroon Bikoutsi, from Ghanian High-Life to Zulu choirs, her music is varied and colourful. The sanza, balafon, calebasse and bongos join the guitar, the vocal backup and Dobet's warm and powerful voice.
Dobet sings in a range of African languages including Bété, Fon, Baoule, Lingala, Malinke, Mina and Bambara. On stage, her voice, her charisma and her huge presence have great audience appeal.
Recordings available:
Author:
World Music Central News Department
World music news from the editors at World Music Central