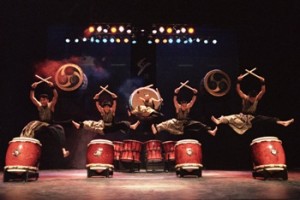 Japanese band Yamato is scheduled to perform on Thursday, October 27, 2011, at 8:00 pm in Madison, Wisconsin.
Yamato was founded by Masa Ogawa in 1993 in Nara, "the land of Yamato," which is said to be the birthplace of Japanese culture. Presently based in Asuka Village, Nara Prefecture, Yamato travels all over the word with Japan's traditional Wadaiko drums, whose sound stirs the hearts of people everywhere. Its performances are infused with the idea that the drumbeat, like the heartbeat, is the very pulse of life.
Since its formation, Yamato has played to more than a million people, giving over 1,000 performances all over the world. It continues to travel with several dozen large and small drums (including an O-daiko made from a huge tree over 400 years old), displaying the instruments' versatility and instinctive appeal.
Ticket Prices:
General Public: $38, $34, $25
Reduced Prices for Union Members & UW-Madison Faculty/Staff
UW-Madison Students: $10
Youth: $14 with purchase of adult ticket – limit 2 youth tickets per adult ticket. Youth tickets must be purchased at the same time as the adult tickets and are valid for youths 6-18 years old. Age verified at door.
Author:
World Music Central News Department
World music news from the editors at World Music Central