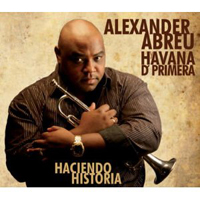 Alexander Abreu
Very little Cuban timba has made it to the United states in recent years. The Ahi Nama label now brings us one of the beswt performers in the genre. Trumpet player has played with some of the leading salsa and timba musicians in Cuba.
Haciendo Historia marks the first major U.S. release by a new cuban dance band in 10 years and the revival of TIMBA. Led by the multi-taleneted Alexander Abreu, Habana d Primera is an ensemble of the most sought out studio musicians in Cuba who played with the top bands during the dance music explosion of the 1990's. They are undisputedly the most popular dance band in Cuba today with the highest audience draws in the island. The musical elements in this CD range from straight-up salsa and timba to son, pilon, funk and jazz. Haciendo Historia will definitely have you dancing with its fresh and infectious sound.
Band Bio
Alexander Abreu & Havana D'Primera: Crusaders for Cuban Music
For more than two decades, Alexander Abreu has nurtured a behind-the-scenes reputation as one of the most sought-after studio musicians in Cuba. Today, he has finally stepped into the spotlight as a bandleader on a mission: To rescue Cuban dance music and recapture the thrilling energy from its modern heyday during the 1990s. Three years ago, Abreu pulled together an ensemble of seasoned musicians who had played with some of the best bands of that exciting era, a golden age of contemporary Cuban salsa and timba. Concerned about the decline of Afro-Cuban dance music on its own home turf, Abreu decided to pick up the standard once carried around the globe by the very bands he had played with, such as Paulito FG y Su Elite and Isaac Delgado.
"I feel like one of the great crusaders of Cuban music," said the husky-voiced bandleader in a recent interview (*) published on Timba.com, a Cuban music website. "Because what is happening with Havana D'Primera is basically the recovery of music from the 1990s, a great period for music here in Cuba that had been lost to some degree."
Abreu formed Havana D'Primera as a collective of musicians who shared his top-tier experience and his sense of urgency for music that they consider an art form and a cultural legacy. They had all matured during the decade of dominance of the great Cuban dance bands that had been their training grounds. Since 2000, however, many of the leading figures in the genre had left the island, including Manolin, Isaac Delgado and Carlos Manuel, all of whom were Abreu's colleagues and collaborators. Meanwhile, young fans on the island flocked to foreign pop music styles such as rock, rap and reggaeton, leaving the legacy of Cuba's rich native dance music to languish.
For Abreu and his new band, the challenge of sparking a revival was daunting. No new dance band had managed to break into the top ranks of popular music acts since the turn of the century, when Cesar Pedroso broke away form Los Van Van and formed his own band, Pupy y Los Que Son, Son. Record labels, radio stations and nightclubs all catered to the latest craze, especially reggaeton which had swept salsa off the charts. Incredibly, so many deejays had turned to reggaeton that there was no place to dance salsa in the capital of the country where the music was invented.
However, the crisis gave Abreu the chance to build a grass-roots fan base just like the timba pioneers had done at the start of the dance music movement in the late 1980s and early 1990s. That was known as "the special period" in Cuban history, a time of extreme economic hardship when bands were forced to practice in the dark due to frequent blackouts and try out their material on stage due to a lapse in record production. For a while, Cuban dance music was all about the live performance, a necessity that helped spark creativity. Taking a page from his predecessors, Havana D'Primera began working live shows, building a following the old-fashioned way, one fan at a time.
Before long, fans were packing the band's regular Tuesday matinees at Casa de la Musica, a club and cultural center in the residential Miramar section of Havana. Even though they had not yet released a record, loyal fans memorized song lyrics from the live shows, another throwback to the trial-by-fire of the early timba years.
The weekly gigs were pivotal to the band's development. But the early going was rough. "Yes, the matinee was very important," Abreu told Timba.com. "It has really helped to build the character of the orchestra. We started there with just a couple of tables of people. Nobody went to those first gigs – nobody knew about the band. Many people would leave the concerts saying, "How is it possible that this is happening, and that people don't know about it?"
That was soon to change. Before long, Havana D'Primera was generating the biggest buzz of any new band since Pupy y Los Que Son Son. "To put it simply," writes Timba.com blogger Kevin Moore, "if I were arriving at Havana Airport tonight, (Havana D'Primera) would be the first band I'd be searching for."
ALEXANDER ABREU MANRESA hails from Cienfuegos, a province that has produced musical luminaries (revered singer Beny More) and musical institutions (the legendary Orquesta Aragon). He comes from a family of amateur musicians, including his grandfather who taught him to play the tres, a special Cuban guitar. As a boy, he wanted to be an athlete, but his mother took him to a school that tested aptitudes and he got the highest scores in music. He started studying trumpet at age 11 and credits his mother for encouraging him to practice and pursue his career.
Originally, Abreu wanted to drop the trumpet and take up the flute, but his teachers understood his talent and insisted, prophetically, that he stick to the wind instrument. At 18, the young musician moved to Havana to continue his studies at the prestigious ENA, a breeding ground for Cuba's best musicians. He graduated in 1994 and later would return as a professor, teaching trumpet.
In Havana, Abreu found himself at ground zero of the timba music explosion that rocked Cuba in the early 90s, marking an exciting evolution in the way Afro-Cuban dance music, or salsa, was performed. He played for six years with the ground-breaking band of singer Paulito FG, one of the leading stars of the timba revolution. His skills were forged in this powerful ensemble, working alongside two musicians he considers his greatest influences – Carmelo Andres, his trumpet teacher, and producer/arranger Juan Manuel Ceruto. Several band-mates from this seminal ensemble would go on to form part of Havana D'Primera, including Ceruto who produced the band's new CD.
Abreu has also played and/or recorded with virtually every major act during one of the most exciting and creative eras in Cuban music. He was a member of the popular and respected band led by singer Isaac Delgado, who now lives in Miami. As a highly sought-after studio musician, he has recorded with top bands in disparate styles, including famed dance band Los Van Van and powerful fusion group Irakere. He has also worked with poetic singer/songwriters such as Pablo Milanes and Amaury Perez, who plays trombone on the new Havana D'Primera disc. In addition, Abreu was recruited for previous all-star projects, such as the touring timba band dubbed Team Cuba and the Grammy-winning Cuban roots recording "La Rumba Soy Yo."
After the Cuban dance music scene started receding in 2000, Abreu travelled to Europe and spent time in Denmark, where he was invited to give master classes in trumpet and Cuban music at the jazz conservatory of Copenhagen. During an extended stay there, he joined Grupo Danson, a band composed of Cuban and Danish musicians, serving as arranger and composer. (Some of the songs from that era are included in the new album, expanded and improved for Havana D'Primera.) Abreu has appeared in Europe's top music festivals and in 2002 he performed on the same stage with Sting, Lou Reed and James Brown as part of the benefit concert "Pavarotti & Friends."
The time he spent performing overseas helped Abreu avoid the pitfalls of other Cuban timba bands, often considered too tailored to a home crowd and too hard for outsiders to dance to.
"I believe that to live outside of Cuba for a time has been one of the keys to the hallmark of this group," says Abreu of his band. "Because I learned how to interact with people that don't speak the language. I learned how to spread that same happiness and energy….You have to be precise with the rhythms and arrangements. You have to make sure that they are understandable, that they are solid, that they are clear, so that people understand."
But there's a flip side to that dynamic. Musicians who spend too much time outside their home base also risk losing that special creative energy and inspiration that only Cuba can provide. While in Europe, Abreu was reminded of the common wisdom: "Cuban music has to be made in Cuba; if not it doesn't taste the same." So by 2007, he was back in Havana putting together his own band.
The aspiring bandleader came home with only an embryonic concept, inspired by a New York salsa band he had caught in Copenhagen. There he had seen the Grammywinning Spanish Harlem Orchestra, a group of veteran salsa musicians who came together with a common purpose – to re-capture some of the original sound and excitement of the great salsa bands of the 70s. The group — led by pianist Oscar Hernandez who had played with salsa greats such as Ray Barretto and Ruben Blades – managed to stir up enough nostalgia to spark a one-band salsa revival, touring the world and recording three popular albums featuring star vocalists such as Blades.
"That served as an inspiration to do something similar with session musicians in Havana," says Abreu. "It gave me the strength to come to Cuba and say, 'I can do it here.' From that idea, basically, Habana D'Primera is born." Abreu composed and arranged all 11 songs on the new album. The musical elements range from straight-up salsa and timba to son, pilon, funk and jazz. He even incorporates some lines from popular reggaeton tracks, offering a bridge to the music which, he acknowledges, reflects the realities of today's youth. The carefully crafted lyrics range from romantic to realistic, all based on his reallife experiences. ("Las cosas de un amigo" refers to a friend who says one thing to his face and another behind his back.) Abreu says he tries to make the verses "as sweet as possible" on paper. On stage, they take on the power and propulsion of the percussion, merging rhythms with lyricism.
"That's why I say, in summary, that I come with the dance kick of the conga and a book of poetry." Recently, Abreu has started using his Facebook page to post snippets of new lyrics and test his fans' reactions. Whether in person or on social media, he's proud of the enthusiastic public response to Havana D'Primera. And he even dares to think that he may have started a new trend. "Young people are playing Cuban music and I think that the movement is beginning to grow," he says. "With the creation of Havana D'Primera, I think many people have recharged their batteries and are starting to make music again."
Author:
Angel Romero
Angel Romero y Ruiz has been writing about world music music for many years. He founded the websites worldmusiccentral.org and musicasdelmundo.com. Angel produced several TV specials for Metropolis (TVE) and co-produced "Musica NA", a music show for Televisión Española (TVE) in Spain that featured an eclectic mix of world music, fusion, electronica, new age and contemporary classical music. Angel also produced and remastered world music albums, compilations and boxed sets for Alula Records, Ellipsis Arts, Music of the World.