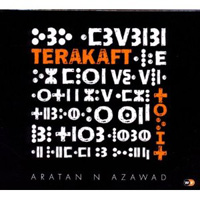 Terakaft
Aratan N Azawad (World Village, 2011)
Looking for that kick of blazing guitars and desert rhythms? Well, look no further as Terakaft has rolled out their latest Aratan N Azawad on the World Village label. These Tuareg guitar warriors are back with their signature Saharan desert blues rock sound. Following up on their 2008 release Akh Issudar, Aratan N Azawad or Children of the Azawad, Terakaft is still plumbing the depths of the Tuareg experience and a history ripe with rebellion and exile to create a musical revolution for the Tuareg peoples. Dipping into that deep well of Tuareg history and poetry, Terakaft hopes to find solutions, soul solutions through music.
As Terakaft bassist and singer Abdallah Ag Ahmed explains, "Historically, our people had a huge territory that extended across the Sahara. But now Tuaregs are all living in despair and isolation, each in their own little corner of the world. We want to unite our people with rousing calls for progress like "Aghalem.'"
Opening track "Alghalem" might call for progress, but musically it possesses all the coolness of guitar nirvana against a sharp Tuareg call and response chant. And Aratan N Azawad just gets better as it lapses into the thick, rangy guitar sass of "Talikoba" and then to the almost sweet, reflective sound on title track "Aratan N Azwad," a song written by Terakaft leader Liya Ag Abil aka Diara during the Tuareg rebellion two decades ago beseeching that children learn the Tuareg language and history.
Terakaft's laid back "Aman Wi Kawalnen" lulls the listener with a rolling rhythm, but it's tracks like "Idiya Idohena" with stylish guitars and rhythmic sparkle or the exotic "Amazzagh or sultry "Ahabib" that are utterly captivating. "Akoz Imgharen" possess a kind of folksy feel-good that fits nicely against the kick ass guitar licks of "Wer Essinen" and "Kek Amidi Nin." Closing with the brightly colored "Hegh Tenere," Terakaft's sound comes across as sleekly fresh.
Aratan N Azawad is a stellar addition to the Tuareg musical collective. And as the peace holds the music just keeps coming. As Diara puts it "I have to say there is nothing better than unity and peace." Let's hope it stays that way.
Buy the album or MP3 downloads:
Author:
TJ Nelson
TJ Nelson is a regular CD reviewer and editor at World Music Central. She is also a fiction writer. Check out her latest book, Chasing Athena's Shadow.
Set in Pineboro, North Carolina, Chasing Athena's Shadow follows the adventures of Grace, an adult literacy teacher, as she seeks to solve a long forgotten family mystery. Her charmingly dysfunctional family is of little help in her quest. Along with her best friends, an attractive Mexican teacher and an amiable gay chef, Grace must find the one fading memory that holds the key to why Grace's great-grandmother, Athena, shot her husband on the courthouse steps in 1931.
Traversing the line between the Old South and New South, Grace will have to dig into the past to uncover Athena's true crime.