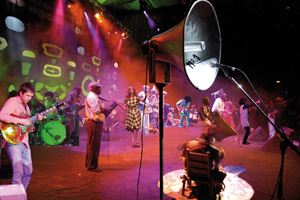 The Congotronics vs. Rockers project is set to perform Sunday, Julky 3rd at 8:00 p.m. at Haus der Kulturen der Welt in Berlin.
Big names in the international experimental and Indie scenes remixed originals by the "Congotronics" bands Konono No.1, Kasai Allstars and Bolia We Ndege for the album "Tradi-Mods vs Rockers". Now they've also put together a band that's gone on tour together.
As well as Konono No. 1 and the Kasai Allstars, it also includes the Californian Noise Rocker Deerhoof, the Argente singer/songwriter Juana Molina, the Swedish song and drum duo Wildbirds & Peacedrums and Matt Mehlan, frontman of the Freejazz Experimental band Skeletons from Brooklyn.
Berlin is the only stop in Germany on the tour.
Recordings available: Congotronics, Buzz N Rumble From the Urb N Jungle (with DVD), Tradi-Mods Vs Rockers
Haus der Kulturen der Welt
John-Foster-Dulles-Allee 10
10557 Berlin
Phone: +49 (0) 30 – 39 787 – 175
http://www.hkw.de
Author:
World Music Central News Department
World music news from the editors at World Music Central