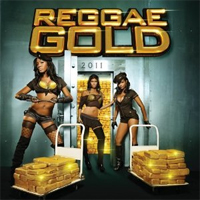 Every summer, the compilation series Reggae Gold brings the top reggae and dancehall hits into one must-have collection for the masses. This year's installment, out June 28 on VP Records, is a diverse set of reggae chart toppers and the freshest sounds of the season.
The album opens with this summer's street anthem "Jah Army" by Stephen Marley featuring Damian "Jr. Gong" Marley and Buju Banton and follows with dancehall heavy hitters like I-Octane's club banger "Nuh Ramp Wid We" and Mavado's feel-good "Peppa." Things continue to spice up with Shaggy & Alaine's "For Your Eyez Only," and Beres Hammond's soulful baritone shines on "Pull Up." Queen Ifrica delves deeper on "Times Like These," and Alborosie featuring Camilla closes with "One Draw," to make this truly a treasure of reggae gems.
Reggae Gold contains a bonus mix from New York City's Power 105.1 DJ Norie. DJ Norie will appear on BET's 106 & Park on album release day and will be playing songs from the record at J&R Music World in New York City on Saturday, July 2 at 1pm ET. "I was happy to get involved with mix. As a radio DJ, I have the opportunity to get songs first and am in an important position to break new records. "Jah Army" and "Whine (Wine)" are two examples of that, so it is great to see those songs now on Reggae Gold, cause you know it's the go-to album for the biggest reggae tunes of the year," Norie states.
For the past 19 years, VP Records has been at the forefront of the genre with the Reggae Gold series. Reggae Gold contains the most popular sounds from renowned artists, crossover recording acts and emerging talent. Reggae Gold consistently lands on the top spot of the Billboard charts for the Reggae Category and is the best-selling compilation for the genre.
Track Listing
1. Jah Army – Stephen Marley ft. Damian "Jr. Gong" Marley & Buju Banton
2. Nuh Ramp Wid We – I-Octane
3. How Mi Feel – Assassin
4. Peppa – Mavado
5. None Ah Dem – Shabba Ranks
6. Stronger – Cham ft. Mykal Rose & Rodney Price
7. For Yur Eyez Only – Shaggy & Alaine
8. Whine (Wine) – Vybz Kartel
9. Duggu Duggu – Gyptian
10. Black Woman – Richie Spice
11. Can't Go Round It – Stevie Face
12. Groovy Little Thing – Tarrus Riley
13. Pull Up – Beres Hammond
14. Everyday – Courtney John
15. Times Like These – Queen Ifrica
16. One Draw – Alborosie ft. Camilla
Author:
World Music Central News Department
World music news from the editors at World Music Central