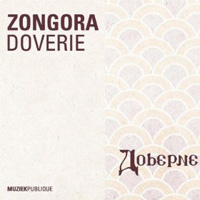 Belgian Balkan music band Zongora has a new album titled 'Doverie' on the Muziekpublique label. Zongora have built up a strong reputation in Brussels as a live act, on the basis of their energetic marathon concerts. The first CD from this highly popular Balkan sextet is intended to boost their reputation even further.
Zongora are musicians from Brussels, Romania and Bulgaria with a mutual love for Balkan Music. But their music doesn't stop here. Zongora love to experiment with new styles and influences. Their musical horizons are as wide as their origins and the journeys they have made: from Brussels, via Cluj to Zagreb, Sofia, Istanbul…
With the arrival of the young virtuoso clarinet player, Mladen Mladenov, the group has taken a new step and their music has become richer and even more compelling. It takes us from the heart of the Balkans to the Mediterranean, with a mixture of intimate melodies and lively dance music.
Zongora are: – Nicolas Hauzeur (violin) – Benjamin Clement (guitare)- Javier Breton (bass) – Niki Alexandrov (percussion) – Mladen Mladenov (clarinet) – Relu Merisan (cymbalom)
Buy the MP3 downloads:
Author:
World Music Central News Department
World music news from the editors at World Music Central