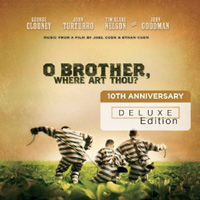 On August 16, Universal Music will celebrate the 10th Anniversary of the popular movie score O Brother, Where Art Thou?, one of the 10 top-selling soundtracks of all time, with an expanded two-CD set titled O Brother, Where Art Thou? – Deluxe Edition.
The album that rocketed bluegrass, roots and Americana music from the 20th Century into the new millennium features a 17-track bonus disc. Thirteen of these newly-released songs were recorded during original sessions for the film, and all except "Cow Road" and "I'll Fly Away" went unheard on-screen. This release marks the first time these tracks have been made available in any format.
Produced by the legendary T Bone Burnett, the original O Brother, Where Art Thou? soundtrack from the 2000 film—written, directed and produced by the Coen Brothers and starring George Clooney—shot to No. 1 on the Billboard Top 200 and Country charts and became a music phenomenon, despite scant radio airplay. Along with Album of the Year honors, the album won Grammys for "I Am A Man Of Constant Sorrow" performed by Dan Tyminski, Harley Allen and Pat Enright, and "O Death" by the legendary Ralph Stanley.
The second disc of the O Brother, Where Art Thou? – Deluxe Edition features artists who appeared on the original album (John Hartford, Norman Blake, the Fairfield Four, the Cox Family and the Peasall Sisters) plus some who did not (Colin Linden, Alan O'Bryant, Ed Lewis and Van Dyke Parks). The disc's previously recorded tracks are a pair from Duke Ellington, "Tom Devil" by Ed Lewis and the Prisoners, and "I'll Fly Away" by the Kossoy Sisters.
The music from O Brother, Where Art Thou? spawned an award-winning hit album and a groundbreaking Nashville concert. The resulting documentary film of that show, Down From The Mountain, led to another GRAMMY-winning album and a sold-out U.S. tour. A decade later, this landmark album, alternate versions of many of its songs, and other recordings from the film have been brought together for the first time to introduce new fans to this great music and reward longtime fans with a new treasure trove of musical gems from the original sessions.
Track Listing:
O Brother, Where Art Thou? – Deluxe Edition
TRACK LISTING
Disc One: The Original O Brother Where Art Thou
"Po' Lazarus" – James Carter and prisoners
"Big Rock Candy Mountain" – Harry McClintock
"You Are My Sunshine" – Norman Blake
"Down To The River To Pray" – Alison Krauss
"I Am A Man Of Constant Sorrow" – The Soggy Bottom Boys
"Hard Time Killing Floor Blues" – Chris Thomas King
"I Am A Man Of Constant Sorrow" – Norman Blake
"Keep On The Sunny Side" – The Whites
"I'll Fly Away" – Alison Krauss & Gillian Welch
"Didn't Leave Nobody But The Baby" – Emmylou Harris, Alison Krauss & Gillian Welch
"In The Highways" – Sarah, Hannah, and Leah Peasall
"I Am Weary, Let Me Rest" – The Cox Family
"I Am A Man Of Constant Sorrow" – John Hartford
"O Death" – Ralph Stanley
"In The Jailhouse Now" – The Soggy Bottom Boys
"I Am A Man Of Constant Sorrow" – The Soggy Bottom Boys
"Indian War Whoop"- John Hartford
"Lonesome Valley" – Fairfield Four
"Angel Band" – The Stanley Brothers
Disc Two: Bonus Disc
* Unreleased Tracks
* 1. "Hard Time Killing Floor Blues" – Colin Linden
* 2. "You Are My Sunshine" – Alan O'Bryant
* 3. "Tishamingo County Blues" – John Hartford
4. "Mood Indigo" – Duke Ellington
* 5. "Cow Road" – T Bone Burnett
6. "I'll Fly Away" – The Kossoy Sisters
* 7. 'Big Rock Candy Mountain" – Van Dyke Parks
8. "Admiration" – Duke Ellington
9. "Tom Devil" – Ed Lewis and the Prisoners
* 10. "Keep On The Sunny Side" – The Cox Family
* 11. "Angel Band" – Sarah, Hannah, and Leah Peasall
* 12. "Big Rock Candy Mountain" – Norman Blake
* 13. "Little Sadie" – Norman Blake
* 14. "In The Highways" – The Cox Family
* 15. "That Hog's Foot Further In The Bed" – John Hartford
* 16. "The Lord Will Make A Way" – Fairfield Four
* 17. "In The Jailhouse Now" – Harley Allen
Buy the album or MP3 downloads:
Author:
World Music Central News Department
World music news from the editors at World Music Central