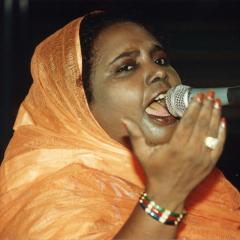 Dimi Mint Abba, an essential figure in Mauritanian music, died Saturday, June 4th, at a hospital in Morocco. She had suffered a brain hemorrhage two weeks earlier while performing in El Aaiún, in the Western Sahara.
Loula Bint Siddaty Ould Abba was born in 1958 in Tidjikja, an oasis town in the Sahara, in the Tagant region of Mauritania. Her parents were renowned musicians and storytellers. They were part of a hereditary caste of artists known in Mauritania as iggawen or iggawin, similar to the West African griots.
Her father, Sidaty Ould Abba, composed the Mauritanian national anthem. Her mother, Feu Mounina Mint Eida, was a percussionist and taught Dimi Mint Abba how to play the ardin, a type of harp that is very popular in Mauritania, similar to the kora, and which is normally played by women.
In her native Mauritania, Dimi Mint Abba was revered as the Diva of the Desert. She was the small republic's best-loved female iggawen. The iggawen represents much more to Mauritanians than a singer or musician, as their songs convey history, social commentary, poetry, prophecy and tales about the beauty of love.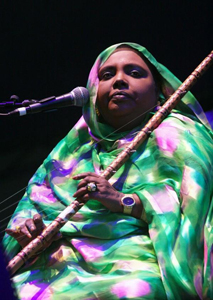 After winning a prize at the Festival d'Oum Kelthoum in Tunisia in 1976, Dimi represented Mauritania at the Festival of Arabic Youth in Iraq (1977), Festival of Timgad in Algeria (1978) and the Festival of Agadir in Morocco in 1986.
In 1989, she embarked on a European tour, giving audiences a first taste of music from Mauritania, followed by the album Moorish Music from Mauritania, with her haunting vocals supported by ardin, tidnit (a type of lute), tabal and electric guitar. Although the music of neighboring Mali, Senegal, Western Sahara, Algeria and Morocco are better known outside of Africa, the modern and traditional music of Mauritania boasts a unique fusion of African and Arabic cultures to produce a passionate, expressive singing style over complex rhythms – a powerful influence on other forms of music, including flamenco.
Her recordings include: Moorish Music from Mauritania by Khalifa Ould Eide & Dimi Mint Abba (World Circuit WCD 019, 1990) and Music and Songs of Mauritania (Auvidis Ethnic 1992).
Author:
World Music Central News Department
World music news from the editors at World Music Central