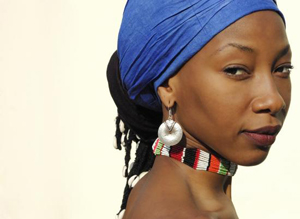 The UK's largest celebration of African music and culture returns in 2011 with Fatoumata Diawara (Mali), Kakeyce Fotso (Cameroon), Mokoomba (Zimbabwe), Mlimani Hotel Orchestra (Tanzania), Bonga (Angola), Mariem Hassan (Western Sahara), Damily (Madagascar), Cheny (Mozambique) and Abdou Diop (Senegal).
The festival will be held at Sefton Park in Liverpool on Saturday 18th and Sunday 19th of June 2011. Beginning in 1992 as a series of small gigs in the city centre, the event has gone from strength-to-strength, moving to its present Sefton Park home in 2002 to cope with demand.
Africa Oyé has continued to grow and in 2010 attracted an audience of over 50,000 people. Even more are expected to attend the 20th annual Africa Oyé Festival in 2011.'We understand that Africa Oye's festival has built on past successes and grown and expanded – very good news for 'great art for everyone' which is what we're all about. The North West is home to loads of amazing festivals and Africa Oye appeals to and attracts a very wide and diverse audience. We're delighted that audiences again this year will get to enjoy the excellent programme that Africa Oye is offering,' said Chris Bye, Relationship Manager, Music, Arts Council England
With too many negative representations of Africa entrenched in images of war, disease, poverty and famine, Oyé seeks to redress the balance and highlight the fantastic range of cultures, foods, music and artists that make this great continent one of the most vibrant and inspiring in the world.
The festival is also a truly international event that harnesses the spirit of multiculturalism and tolerance. It has played host to artists from nations right across Africa and also programs music from South America and The Caribbean with Salsa, Soca, and Reggae always popular additions to the festivities.
But Africa Oyé is about more than music. Over 60 stalls selling the best food, drink, arts and crafts and fashion from Africa and beyond will again be present at the Oyé village. Long time supporter 'News From Nowhere', one of the UK's premier stockists of African music, will have merchandise from all the performing artists and much more on sale.
12:30pm-9:30pm on both days
Admission: free entry
www.africaoye.com
Author:
World Music Central News Department
World music news from the editors at World Music Central