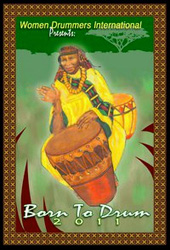 The Born to Drum Women's Drum Camp is a 4-day camp for women and girls 15 and older. Born To Drum takes place July 1, 2, 3, and 4 at Walker Creek Ranch, on 1700 acres in the beautiful rolling hills of Northern California, about an hour's drive from San Francisco or Oakland.
The 6th annual Born To Drum Camp features an international faculty of over 20 women drummers and dancers, workshops, concerts, dance, fireside drumming, and cultural exchange in a beautiful setting. There will be a marketplace, organic food great accommodations, inspiration and FUN!
Whether you are brand new to drumming or have been playing for years, you will find classes that will both support and challenge you. We welcome women new to drumming and have scheduled basic skills classes to help you build a strong foundation. Other classes range from beginning to advanced intermediate, with many all-levels classes. Class descriptions and the schedule (available closer to camp) will indicate the level of the class.
Accommodations: There is something for everyone in the choice of accommodations — camping, dormitory style housing, and semi-private or private rooms in small lodges with lounge and kitchen areas. The food is delicious, with fresh organic vegetables from the Ranch garden supplemented by offerings from local farms.
Classes and Activities: During the day, you can choose from more than 65 classes featuring drum, dance, and song from many cultural traditions. Evenings are devoted to making and enjoying music. There will be a concert by the faculty, an open mic, a dance with live drumming. There is drumming under the stars at the firepit at night. On Saturday and Sunday we will enjoy an activities period with swimming at Turtle Pond, a naturalist led hike, a special workshop, and time to enjoy our beautiful environment.
Author:
Les Moncada
Les Moncada is a Latin Jazz orchestra leader and conguero for over 40 years. He was born in Oakland, California and currently resides in Sacramento, California.
Les Moncada is a student of conga and batá master Francisco Aguabella, a friend of the late promoter Bill Graham, vibraphonist Cal Tjader, Latin Jazz band leader Pete Escovedo, conguero Mongo Santamaria and many, many more.
He has been writing for many years for World Music Central.
Les has several Facebook sites: Timbales and Congas Bongo Bata & bells; Conguero, Professional Conguero & their Instrument; Bongocero, Professional Bongocero their Instrument; Alambres Dulces, Tres, Cuatro & Laud