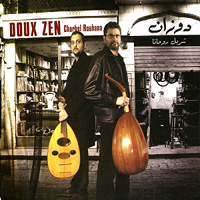 Charbel Rouhana
Doux Zen (Forward Music, 2010)
Charbel Rouhana's Doux Zen, out on the Lebanese label Forward Music, is a bit like following a cat onto the streets of a foreign city, to places where the sights and sounds are sharply colored and hidden treasures lay in dark corners. Richly worked and powerfully driven, Doux Zen draws out the mastery and mystery of oud.
Composer, singer and musician Charbel Rouhana is indeed an oud master with first place prizes at the 1990 Hirayama Competition for Best Composition, the 2007 Murex d'Or or Musician of the Year and a BBC3 World Music Award for Album of 2007. He has performed with the likes of Marcel Khalife, Fairuz, Magida El Roumi, Julia Boutros and formed the Beirut Oriental Ensemble. Not only that, but also his method of playing the oud has been published and adopted by the National Conservatory of Music in Lebanon and the faculty of music at the Holy Spirit University, where he is part of the teaching staff since 1986. In addition, Mr. Rouhana's discography includes the recordings Sourat Trait d'Union, Dangerous, Handmade and the CD/DVD set The Handmade Concert.
Composing and playing all the songs on Doux Zen, Mr. Rouhana teams up with fellow oud musician Elie Khoury. Opening with the sweetly worked title track "Doux Zen," Mr. Rouhana and Mr. Khoury quickly enfold the listener in intricately worked oud lines that simply astonish. If you can get past the sheer virtuosity, and it took me a couple of listens, Doux Zen is full of intriguing twists and turns of phrase in the music. Tracks like "Before Tuning" and "Kermelon" are deceptively spare in their use of intertwined oud lines, allowing the beauty of each composition to shine. "Retour" opens and lapses into an almost contemplative tones, where tracks like "Missing You" thrums with oud passion. Closing track "Basma" possesses a more traditional flair and works to bring the recording as a whole full circle with a Middle Eastern flavor.
Doux Zen is densely rich with Mr. Rouhana's fresh take on new possibilities of the oud and flavors it has to offer.
Recordings available:
Author:
TJ Nelson
TJ Nelson is a regular CD reviewer and editor at World Music Central. She is also a fiction writer. Check out her latest book, Chasing Athena's Shadow.
Set in Pineboro, North Carolina, Chasing Athena's Shadow follows the adventures of Grace, an adult literacy teacher, as she seeks to solve a long forgotten family mystery. Her charmingly dysfunctional family is of little help in her quest. Along with her best friends, an attractive Mexican teacher and an amiable gay chef, Grace must find the one fading memory that holds the key to why Grace's great-grandmother, Athena, shot her husband on the courthouse steps in 1931.
Traversing the line between the Old South and New South, Grace will have to dig into the past to uncover Athena's true crime.