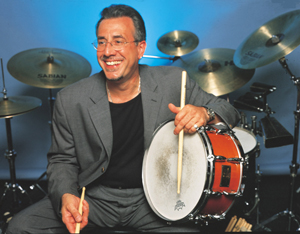 Havana to Harlem: 100 Years of Mario Bauzá, a special tribute concert to the "Godfather" of Afro Cuban Jazz – Mario Bauzá on Saturday, June 18th as part of its newest series, Cross Cultural Exchange. The concert is a collaboration with TeatroStageFest, New York's Latino International Theater Festival. Consummate drummer/percussionist and band leader Bobby Sanabria and his Bobby Sanabria Big Band bring Bauzá's music back to the Apollo and pay tribute to the legendary musician for this exclusive engagement.
With a musical trajectory that spanned over seventy years, Mario Bauzá covered and mastered the realm of symphonic, Latin, jazz, African-American, and popular dance music and was pivotal in introducing Latin music to the Unites States. Bauzá played the Apollo many times and performed with many of the famed Harlem bandleaders, including Chick Webb, Fletcher Henderson and Cab Calloway and then as part of Machito's Afro Cubans.
Primarily known for providing a platform to advance the contributions of African-American artists, the Apollo has also been instrumental in presenting Latin music artists throughout its 77- year history. Since the first appearance of the legendary Machito Afro Cubans at the Apollo in the 1940's, Afro-Cuban jazz, in particular, has had a powerful presence at the Theater.
"There is a wonderful tradition of Latin music at the Apollo going back to Tito Puente, Celia Cruz, Machito and his Afro Cubans and many others, and this show speaks directly to that story," says Jonelle Procope, President and CEO of the Theater. "Mario Bauzá's connection to the Apollo is as deep as that of Ella Fitzgerald and James Brown. The idea of the Cross Cultural Exchange Series is to reflect and illuminate the broad range of music that has been part of the Apollo's legacy. This celebration led by The Bobby Sanabria Big Band honors both the legacy of Afro Cuban music at the Apollo and Bauzá's own legacy."
Bobby Sanabria was Bauzá's drummer for eight years and considers Bauzá as his mentor. Sanabria, recognized as one of the foremost and futuristic practitioners of la tradición living today, is excited about honoring his mentor with this special presentation at the Apollo. "I am so happy to be a part of this celebration of the 100th birthday of Mario Bauzá. He was the father of Afro-Cuban/Latin Jazz and it makes so much sense to honor his legacy at the Apollo because this is where the majestic sound of this music was born – in Harlem, U.S.A. at the Apollo Theater."
Joining the Bobby Sanabria Big Band is master of ceremonies and one of the original Last Poets, Felipe Luciano; NEA Jazz Master, Candido; legendary composer and multi-instrumentalist, David Amram; trumpet master, Jon Faddis; activist, actress, spoken word artist, La Bruja, and Thelonious Monk competition finalist, vocalist Charenee Wade.
From Havana to Harlem: 100 Years of Mario Bauzá is presented by the Apollo Theater in collaboration with TeatroStageFest, NY's Latino International Theater Festival. The Theater Festival takes place June 4-18, 2011. Visit www.teatrostagefest.org or call 212.695.4010 for more information. Tickets are $25, $35, $45 and are available at the Apollo Theater Box Office.
Bobby Sanabria recordings available:
Mario Bauzá recordings available:
Author:
World Music Central News Department
World music news from the editors at World Music Central