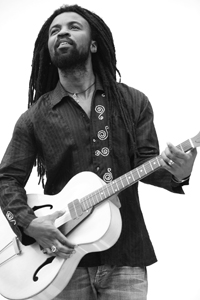 "The new kinds of fusion in reggae which I see now are the integration of traditional African instruments."
Ghana's reggae star Rocky Dawuni won the "Best African Artist" award at the 30th Annual International Reggae & World Music Awards (IRAWMA) held in Port of Spain, Trinidad on May 28th, 2011.
Dawuni was nominated in this category with other African stars including King Sunny Ade, K'Naan, Angelique Kidjo and 2Face Idibia.
Dawuni was also nominated in the "Best Album" category for his new hit album "Hymns for the Rebel Soul." Among other hats he wears, Dawuni is Tourism Ambassador for Ghana and member of the Board of Advisors of the Jammin Java Corporation, home of the famous Marley Coffee. The album was also nominated for "Best Reggae Song" for the Ghana Music Awards.
At the Trinidad ceremony, Dawuni performed his classic song "Extraordinary Woman" from "Hymns for the Rebel Soul" with Dean Fraser on saxophone and then closed the show with a rousing performance of Bob Marley's classic song "One Love." He was joined by renowned artistes Shaggy, Taurus Riley, Machel Montano, Gramps Morgan and Tony Rebel.
"Winning the Best African Artist Award is a great honour for me in terms of a broader recognition for my music. At the same time, it also brings me renewed inspiration and serves as a catalyst for me to aspire to break new musical boundaries," said Rocky Dawuni.
Prior to the show Dawuni was granted an audience at the Parliament of the Government of Trinidad & Tobago where he met with the Foreign Minister of Trinidad, Dr. Surujrathan Rambachan, and the Minister of Arts and Multiculturalism, Mr. Winston Peters, to discuss cultural relations between Ghana and Trinidad.
"The new kinds of fusion in reggae which I see now are the integration of traditional African instruments into the contemporary sound of reggae. I experimented with the seperewa, a traditional form of kora from the Ashanti tribe of Ghana and the gonje on my last album 'Book of Changes'," said Dawuni in an interview
Rhythmically, the sounds have been a cross between traditional reggae rhythms and Afrobeat. Other African reggae artistes such as Tiken Jah Fakoly of Ivory Coast featured lots of kora and balafon on their latest recording.
"It's a trend that I believe is gradually defining the new direction of reggae and reflecting its true international potential," said Dawuni.
"I am currently being influenced by Colombian cumbia, Malian desert blues, Mexican electronica, modern African music and of course hip hop and classic soul. The next album I believe will integrate these influences in a contemporary setting," says Dawuni about this future work. In terms of the lyrical subject, it will explore today's politics, spirituality and current social issues in an empowering way, he promises.
URL: www.rockydawuni.com
Author:
Madanmohan Rao
Madanmohan Rao is an author and media consultant from Bangalore, and global correspondent for world music and jazz for World Music Central and Jazzuality. He has written over 15 books on media, management and culture, and is research director for YourStory Media. Madan was formerly World Music Editor at Rave magazine and RJ at WorldSpace, and can be followed on Twitter at @MadanRao.