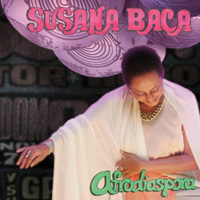 Susana Baca
Afrodiaspora (Luaka Bop, 2011)
Attuned to the musical landscape of Latin America, especially her native Peru, Susana Baca hits the world music scene with her latest Afrodiaspora, a rich and heady listen into the African influence on the music and culture of Latin America. With an internationally celebrated career that includes the Grammy winning CD Lamento Negro, the recordings Susana Baca, Seis Poemas, Travesias, Eco de Sombras and the cultural center Instituto Negrocontinuo she founded with her husband Ricardo Pereira, Ms. Baca continues her musical exploration of the Afro-Peruvian culture with Afrodiaspora.
Ms. Baca explains, "This record is our celebration of the African presence in the Americans and the way it has become a part of Latin America. The culture, the music and our whole selves are all about the mixture of Spanish, Indian and African cultures. Afrodiaspora celebrates the experience of people that have underwent an incredible journey, where only the strong survived."
Ms. Baca cross pollinates her music roots with that of Argentina, Cuba, Columbia and even offers up a reworked version of the New Orleans classic "Hey Pocky Way." Dipping into cumbia, Mexican waltzes, the intoxicating rhythms of Cuba, Puerto Rico and Venezuela, Afrodiaspora works its way through songwriters as Ivan Benavides, Javier Lazo, Victor Merino and Javier Ruibal.
Ms. Baca says of the recording's diversity, "I feel the music of Cuba, Columbia, Ecuador, Argentina, Venezuela and Puerto Rico as if it were mine. I have traveled to many place where Afro descendents live in Latin America. Many of them are poor and forgotten places, neglected and excluded by governments, but at the same time they have a spiritual strength that expresses the African presence. So I try to sing songs from these places, and I try to honor the shared blood and the way that the African presence has influenced Latin America."
With musicians Ernesto Hermozo, Oscar Huaranga, Hugo Bravo and backing singers Carlos Mosquera, Alejandro Ramirez, Pedro Gonzalez, Linda Gonzalez and Dandara, Afrodiaspora is phenomenal and stunning with Ms. Baca's expressive vocals ribbon weaving through the lushly worked music. The opening track "Detras de la Puerta" is works through a deliciously laid back cumbia and Peruvian rhythm, while the darkly ethereal "Bendiceme" dazzles. Tracks like "Plena de Bomba," "Reina de Africa" and the rhythmic mix of Mexican Son Huapango with the Peruvian Tondero of "Que Bonito Tu Vestido" are potently evocative, but the Venezuelan "Taki Ti Taki" is utterly incendiary.
Ms. Baca wields some irresistible force that makes Afrodiaspora's Latin flavors, chocked full of fiery warmth and magnetic pull, too powerful for the average person to resist.
Buy the album or MP3 downloads:
Author:
TJ Nelson
TJ Nelson is a regular CD reviewer and editor at World Music Central. She is also a fiction writer. Check out her latest book, Chasing Athena's Shadow.
Set in Pineboro, North Carolina, Chasing Athena's Shadow follows the adventures of Grace, an adult literacy teacher, as she seeks to solve a long forgotten family mystery. Her charmingly dysfunctional family is of little help in her quest. Along with her best friends, an attractive Mexican teacher and an amiable gay chef, Grace must find the one fading memory that holds the key to why Grace's great-grandmother, Athena, shot her husband on the courthouse steps in 1931.
Traversing the line between the Old South and New South, Grace will have to dig into the past to uncover Athena's true crime.