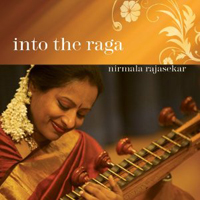 Nirmala Rajasekar
Into the Raga (Innova Recordings, 2011)
Riding the elegance that belongs to the veena, the plucked, stringed instrument of the lute family found in Carnatic Indian classical music, Nirmala Rajasekar explores a series of compositions on her latest offering Into the Raga. Known as a Carnatic veena virtuoso, Ms. Rajasekar bathes the listener in the intricate loveliness of Indian ragas by such composers as Kothavaasal Venkatarama Iyer, Shyama Sastri and Thyagaraja on Into the Raga, out on the Innova Recordings label.
Joined by Raghavendra Rao on violin, Tanjore K Murugaboopathi on the mridangam (a percussion instrument in Carnatic music) and V. Suresh on the ghatam (a percussion instrument made of an earthenware pot found in Carnatic music and its percussive companion the mridangam), Ms. Rajasekar draws the listener along through such ragas as the opening "Sarasuda," the Ragam Nattai "Jaya Jaya" and onto the deeply hypnotic "Akilandeshwari."
Swept away by the sheer beauty of the tones Ms. Rajesekar extracts from the veena, classical Indian music fans will marvel at at Thyagaraja's "Niravathi Sukhada" or Sadasiva Brahmendra's "Manasa Sancharare." Expertly worked and recorded, Into the Raga is a powerful journey into the Carnatic raga.
Fans might be inspired by Into the Raga to check out her other recordings Song of the Veena and Quiet Forest, Flowing Stream, both out on the Innova Recordings label.
Author:
TJ Nelson
TJ Nelson is a regular CD reviewer and editor at World Music Central. She is also a fiction writer. Check out her latest book, Chasing Athena's Shadow.
Set in Pineboro, North Carolina, Chasing Athena's Shadow follows the adventures of Grace, an adult literacy teacher, as she seeks to solve a long forgotten family mystery. Her charmingly dysfunctional family is of little help in her quest. Along with her best friends, an attractive Mexican teacher and an amiable gay chef, Grace must find the one fading memory that holds the key to why Grace's great-grandmother, Athena, shot her husband on the courthouse steps in 1931.
Traversing the line between the Old South and New South, Grace will have to dig into the past to uncover Athena's true crime.