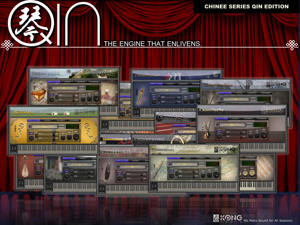 Kong Audio unveiled the latest fruition of the much lauded Chinese instruments product line: Chinee Series QIN Edition. Starting out as a sample content developer in 2005, QIN engine marks a firm step into the music software development realm for Kong Audio.
QIN (means "instrument" in Chinese) Edition is a major upgrade for the previously released Chinese Series instruments, powered by the Windows native QIN engine developed by Kong Audio.
QIN engine approaches sampler design with a layer of intermediary controls (called Extenders in QIN, there are 20 Extenders), helping sample developers as well as composers harnessing the advanced arrangement and manipulations of sample soundsets in a much more intuitive way without tapping into the scripting territory, yet still capable of producing complex and inspiring results.
Other than the change of sampler engine, Chinee Series QIN Edition also introduces the brand new ChineeGuZheng II to replace the old ChineeGuZheng; some instruments have bonus content added; all instruments have the presets remade to utilize the features of QIN engine. As the result, Chinee Series QIN Edition delivers a much better expressiveness and playability than before.
"We have made something that we are very proud of," said Dongsheng Shan, the CEO of Kong Audio and the producer of the Chinee Series QIN Edition. "Even though QIN is still a work in progress which has many flaws, it has allowed us to finally create the actually playable – in an authentic sense – Chinese instruments the way we had in mind when we first started."
Including the just-released ChineeSanXian, currently the Chinee Series QIN Edition comprises of a total number of 15 Chinese ethnic instruments. One can get all 15 in a big bundle called "Kongplete", or one can choose smaller packages like "Essential China," which contains 6 instruments, or "Instant China," which contains 3 instruments too, and still enjoys package discount.
Chinee Series QIN Edition at a glance:
Equipped with Windows native 32-bit QIN engine.
Comes with new and updated sample content, as well as new presets for all instruments, arranged and programmed by the top developer in the field.
*QIN Edition allows access and arrangement of the soundsets, as well as the advanced processing using the Extenders, to the user.
Chinee Series QIN Edition currently contains 15 Chinese classical instruments: ChineeWinds, ChineeKong V3, ChineeErhu, ChineeNanxiao, ChineeGuzheng II, ChineePipa, Matouqin, ChineeSuona, ChineeGuanzi, ChineeSheng, ChineeYangqin, ChineeHulusi, ChineeGuQin, ChineeLiuQin, ChineeSanXian.
The pricetags for the package offer (prior to discount):
Kongplete Big Bundle 952 USD
Essential China 396 USD
Instant China 216 USD
System requirements: Windows XP/VISTA/Windows 7. 1GB RAM. Pentium 4.3GHz CPU. 4GB hard drive space (for Kongplete installation.)
For more info and audio demo, visit http://www.chineekong.com
Author:
World Music Central News Department
World music news from the editors at World Music Central