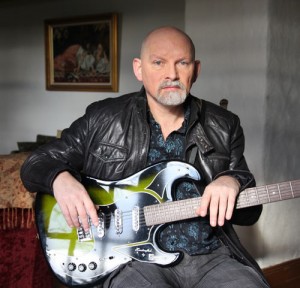 Dead Can Dance founder Brendan Perry will kick off a North American co-headline tour with Robin Guthrie on May 30th in Washington, DC. In addition to performing select tracks from his catalog and Ark, Perry will also be debuting brand new material on this tour.
Perry's second solo album Ark is now available in North America on The End Records. It is Perry's first studio album in eleven years. As one half of Dead Can Dance for nearly three decades, Brendan's music remains highly regarded and influential on a global scale helping to redefine new musical genres.
Recorded in his studio in Ireland, Ark is a solo album in the truest sense, with Brendan playing every instrument, writing all the lyrics and being the sole creative force across the eight tracks. Most of the instrumentation on Ark is derived from samples and synthesizers, and is predicated on a theory of creating ambient, almost soundtrack based accompaniment to the lyricism of the songs. In its range of influences, the album also encompasses music from all four corners of the globe to create a global soundtrack for global themes.
While Ark is not a concept album, it does combine themes which run throughout. The lyrics of opener 'Babylon' focus on the current conflicts within the Middle East. 'The Bogus Man' and 'This Boy' put a human face on those charged with waging war on behalf of self serving political interests. While such dystopian themes could be seen to make for a very bleak experience, Ark is shot through with an emotional warmth and a belief in the redemptive power of humanity from which the album title is derived. Ark is not just a refuge from a world on the brink of self destruction, but also a journey towards a better society and a more altruistic way of life.
North American Tour
05.30.2011 6th & 1 Historic Synagogue – Washington, DC, USA
05.31.2011 Filmore at Irving Plaza – New York, NY, USA
06.01.2011 Paradise Rock Club – Boston, MA, USA
06.03.2011 Le National – Montreal, QC, canada
06.04.2011 Opera House – Toronto, ON, canada
06.05.2011 Metro – Chicago, IL, USA
06.08.2011 Nuemos – Seattle, WA, USA
06.09.2011 Venue – Vancouver, BC, canada
06.10.2011 Doug Fir Lounge – Portland, OR, USA
06.12.2011 Bimbos 365 Club – San Francisco, CA, USA
06.13.2011 El Rey Theatre – Los Angeles, CA, USA
06.14.2011 Belly Up – Solana Beach, CA, USA
06.16.2011 The Metropolitan Theatre – Mexico City, Mexico
Author:
World Music Central News Department
World music news from the editors at World Music Central