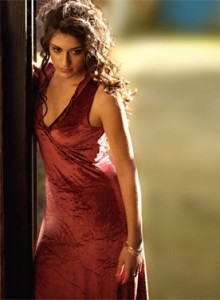 East London cultural charity, Rich Mix, will host more than 150 international and local music events over summer,
Mor Karbasi
Known as a dramatic diva with a haunting voice and stunning stage presence, London-based Israeli singer Mor Karbasi will performing her achingly beautiful melodies at Shoreditch-based Rich Mix as part of their new season showcasing music from different parts of the world.
Born in Jerusalem to a mother from Nazareth of Moroccan descent and a father of Persian ancestry, singer Mor Karbasi now lives in London, and sings in Ladino, Hebrew and Spanish. "To me Ladino is the most beautiful, melodic and magical language I can imagine. I hope to bring its richness to many people. I feel it is my mission to convey the power of those 500 year old melodies and lyrics," says the 25-year-old, who has a string of tours behind her and a new album that came out in April.
Balkan Beat Box
Balkan Beat Box, who bring traditional Eastern European folk into the 21st Century, will headline the international line up at Rich Mix for the Pulse Festival from 27 – 28 May. Pulse introduces some of the most dynamic and bizarre Eastern and Central European music to the UK.
Reem Kelani
For those who sat glued to their screens following the news about the Egyptian Revolution, Reem Kelani's concert at Rich Mix on 4 June is not to be missed. Not only was Reem present in Tahrir Square throughout the revolution, her work for her second album on the great Egyptian composer Sayyid Darwish (1892 – 1923) could not have been more topical. Darwish's songs, which are in the psyche of every Arab, were a core element of the music of the revolution.
Shangaan Electro
In partnership with the Barbican, Rich Mix hosts Shangaan Electro on 25 June. The street level dance phenomenon from South Africa went global in 2010 on the back of a series of viral YouTube clips (2 million hits and counting) and an acclaimed compilation on Honest Jon's that introduced the movers and shakers in this fast emerging micro-genre.
Other Live Gigs
Live music comes to the fore at the weekend at Rich Mix over the summer, other highlights include, Macmillan's The Big Mix, Mosaïques Festival of World Culture, Origins Festival of First Nations and Global Local's monthly riotous musical shindig.
Music In The Bar
The bar will also play host to regular free events on Wednesdays and Sundays ranging from samba (Umbela Arts), live music from award-winning international festival Lake of Stars (Market Club) to Arabic culture (Dash Café) and jazz (Shoreditch Sessions, Arun Ghosh and Brassroots).
Regular artists take center stage on Thursday nights with residencies from Movimientos, featuring Latin American film and music and Susheela Raman's OuterIndia which celebrates the variety and influence of South Asian culture
Rich Mix, 35-47 Bethnal Green Road, London
www.richmix.org.uk
Author:
World Music Central News Department
World music news from the editors at World Music Central