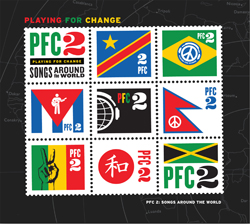 International music collective Playing For Change has released a new video, titled "Three Little Birds," which is a reinterpretation of Bob Marley's classic. "Three Little Birds" is also the first track on their upcoming CD/DVD PFC2: Songs Around The World – out on May 31 via Concord/Hear Music.
"One thing we've discovered with Playing for Change: through tragedy comes great art," says founder Mark Johnson. "As a result of the slave trade, African music came to the new world and created the blues, jazz, reggae, samba and more. The sounds that were divided by slavery are now reuniting in this song. 'Three Little Birds' starts with Baaba Maal playing guitar under a banyan tree in Mali and incorporates rhythms and musicians from Jamaica, Brazil and the US, adding much power to the song."
Maal's guitar and vocal phrasing lays down an African groove that's complimented by rhythms from eight Brazilian percussionists, Keb' Mo's Delta blues guitar, trap drummer Courtney "Bam" Diedrick's reggae backbeat and D. Chandrajit's tabla. The tropical feel is intensified by sliding notes from Mamadou Diabate's kora (African harp) that sound similar to the bent notes of the Delta blues.
PFC2: Songs Around The World is a continuation of filmmaker Mark Johnson's journey to blend diverse styles of music from around the globe into powerful performances. The album features an incredible range of nearly 150 musicians from 25 countries including Baaba Maal, Keb Mo, Tinariwen, Stephen Marley and the now legendary Grandpa Elliott to name just a few.
What started as one person's dream to connect people through music has developed into an international network of musicians and a global Foundation that works toward building, maintaining and connecting music schools across the globe.
The new album expands upon the project's mission to unite people through music and includes a global mix of cultures and rhythms featuring original songs written for the album, as well as reinterpretations of internationally loved recordings including Bob Marley's "Redemption Song," Stevie Wonder's "Higher Ground" and John Lennon's "Imagine."
Buy the album or MP3 downloads:
Author:
World Music Central News Department
World music news from the editors at World Music Central