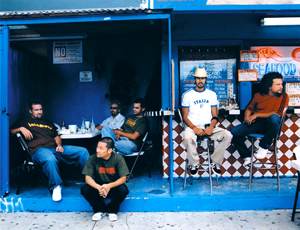 Southern California band Ozomatli is set to perform on Wednesday, June 22 at Red Hook Park, Brooklyn at 7:00 pm.
Ozomatli celebrates the multitude of cultures in Los Angeles with their music – a notorious urban-Latino-and-beyond collision of salsa, dancehall, hip hop and cumbia, samba and funk, merengue and comparsa, East Los Angeles R&B, Jamaican ragga and Indian raga.
For 15 years, Ozomatli have entertained audiences around the world with their unique sound of horns, percussion, strings and vocals while promoting a positive message of peace.
They served as official U.S. State Department Cultural Ambassadors and exemplified how diversity promotes change. The seven multiracial members of Ozomatli are committed to addressing social issues of local, national, and international importance through fun, yet inspirational entertainment.
Recordings available on CD and MP3:
Wednesday, June 22, 2011
Red Hook Park, Brooklyn
Show at 7:00 pm
Author:
World Music Central News Department
World music news from the editors at World Music Central