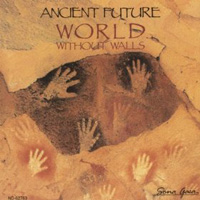 On June 7, 2011, the exact lineup of Ancient Future that performed on the band's influential World Without Walls and Asian Fusion recordings will reunite to perform for the first time in over 15 years at Yoshi's San Francisco and other venues. To celebrate the reunion concerts, Ancient Future's classic 1990 World Without Walls recording is scheduled to be released by Capitol/EMI Records for the first time ever at major digital retailers such as iTunes and Amazon.com MP3 Store on June 7, 2011.
As its name suggests, World Without Walls by Ancient Future depicts a musical world without borders. This classic 1990 recording features Ancient Future members Matthew Montfort (scalloped fretboard guitar, steel string guitars, electric guitars, classical guitar, guitar synthesizers, mandolin), Jim Hurley (acoustic violins, Zeta electric violin, steel string guitar), Doug McKeehan (piano, synthesizers), and Ian Dogole (dumbek, talking drum, congas, bongos, udu, shaker, bass drums, cymbal, sleigh bells, kendang, kajar, ceng-ceng, bells, chimes).
The record also features guest performances by world music legend and tabla master Zakir Hussain (tabla, kanjira), Gary Brown (fretless electric bass), Jeff Narell (steel drums), Vince Delgado (tambourine), Jack Dorsey (drum set), Bill Douglass (acoustic bass, Chinese flutes), and Bruce Kaphan (recording engineer, shaker).
Buy the digital release: World Without Walls
Other recordings available on CD and MP3: Planet Passion' by Ancient Future (remastered to celebrate the 30th anniversary of the band), Seven Serenades for Scalloped Fretboard Guitar by Ancient Future leader Matthew Montfort,
Author:
World Music Central News Department
World music news from the editors at World Music Central