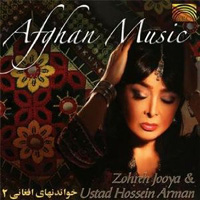 Afghan Ensemble featuring Zohreh Jooya and Ustad Hossein Arman
Afghan Music (ARC Music, 2011)
The problem with truly nutty people is they tend to be the loudest, put themselves in charge and generally ruin life for the rest of us. In the 1990s in Afghanistan under the rule of the Taliban, the Ministry for the Prevention of Vice and Promotion of Virtue sought to rid Afghanistan of all music and musicians, except for religious songs sung without music and, of course, praises for the Taliban. Isn't that always the way. Now, without getting into a theological discussion, one only has to hear the opening phrases of Afghan Music by the Afghan Ensemble featuring Zohreh Jooya and Ustad Hossein Arman on the ARC Music label to realize that such an edict is simply ridiculous and downright insane.
Formed in 2002, the Afghan Ensemble is comprised of delruba, tambur and robab player and arranger Khaled Arman, robab player Sobeir Bachtiar, toolak player Osman Arman, tabla, serbaghali, dolak and dyra player Siar Hashimi and tabla player Wahid Kamran. Joining the Afghan Ensemble on this recording is the vocalist Zohreh Jooya and composer, vocalist and harmonium player Ustad Hossein Arman. Each with extraordinary musical credentials have come together for this recording to share with listeners the vibrant musical traditions of Afghanistan, music that might have been lost to draconian religious rule and war were it not for their dedication to preservation.
Afghan Music is treasure trove of delights. Because Afghanistan was a Silk Road country, its musical traditions incorporated the music of western points with that of Central Asia and India. Listeners to Afghan Music are treated to "Mikham beram Koh," a folk song found in Iran and Turkey as well as Afghanistan, "Jama Narenji," a soulful song from Herat and the dazzling tabla worked Pashtu song "Del Aram Na Razi."
Ripe with Indian influences and superior musicianship Afghan Music thrums with an astonishing exoticism, as well as Ms. Zohreh Jooya's stunning vocals. Ustad Hossein Arman lends his considerable talent on his own compositions "Quye Zeba" and "Bia Ta Goll Bar Afshanim." World music fans will surely fall for "Instrumental Robab" and "Yar Ba Ma" and "Leyly Jan," a traditional song from Kabul.
Afghan Music is delightful peek into the music of Afghanistan and triumph for these Afghan artists. One can only hope they will inspire a new generation of Afghan musicians and music lovers.
Buy the album or MP3 downloads:
Author:
TJ Nelson
TJ Nelson is a regular CD reviewer and editor at World Music Central. She is also a fiction writer. Check out her latest book, Chasing Athena's Shadow.
Set in Pineboro, North Carolina, Chasing Athena's Shadow follows the adventures of Grace, an adult literacy teacher, as she seeks to solve a long forgotten family mystery. Her charmingly dysfunctional family is of little help in her quest. Along with her best friends, an attractive Mexican teacher and an amiable gay chef, Grace must find the one fading memory that holds the key to why Grace's great-grandmother, Athena, shot her husband on the courthouse steps in 1931.
Traversing the line between the Old South and New South, Grace will have to dig into the past to uncover Athena's true crime.