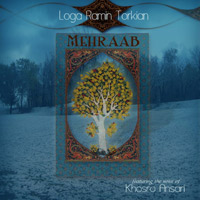 Iranian born composer and multi-instrumentalist Loga Ramin Torkian has released his first solo album Mehraab (Terrestrial Lane Records/Electrofone), which brings to the forefront his exceptional musicianship along with his highly innovative and complex sensibility for composition.
The album partly features the captivating voice of Persian classical singer Khosro Ansari and draws a great amount of inspiration from traditional Iranian melodies and poetry. Loga enthusiastically explains, "I could not have found a better person to collaborate with other than Khosro Ansari, whose incredible voice, vocal melodies and choice of poetry became such an integral part of this expression."
Khosro Ansari can be best described as the modern voice of Persian classical music. Considered among the best singers of the Radif (Persian classical repertoire), Ansari's vast knowledge combined with his highly emotive voice capture the very essence of Iranian music and poetry.
Currently based in Montreal, Canada, Loga Ramin Torkian is internationally recognized for his groundbreaking work with world music groups Niyaz and Axiom Of Choice, both of which he co-founded. Born in Tehran, Iran, Loga moved to the United States as a teenager after the Iranian Revolution. This major transition would fuel much of his musical and artistic expression in the years to come as he struggled to reconcile the bonds of tradition and culture with his own personal experiences. A highly gifted composer and a visionary, Loga is greatly respected worldwide for his ability to adapt the Persian classical repertoire to his own unique and modern compositions.
Loga approached his debut album in a different way from the past, by letting his emotions lead, and to trust that his intellect and musical vocabulary will follow to express something deeper. He expresses, "Now that I look back, I would not have been able to do this recording any other way." Further elaborating, "Although I used many modern sound-processing techniques, I did so only to expand on the frequency range of my natural instruments. I wanted to create a palette of colors with which I could weave together a sonic spectrum not commonly heard in traditional Iranian music. But more than anything, I wanted for the music to be an almost visual experience."
As a multi-instrumentalist Loga experienced a profound need to expand the sonic capabilities and range of Iranian music, believing that this could further widen the possibilities of his rich musical heritage and bring it into to a modern platform. This need has contributed greatly to his unique approach to Iranian traditional music and has set him apart as a true visionary in his field.
During his years with Axiom of Choice Loga was credited for creating the first ever quarter-tone Guitar with movable frets, to which he was able to adapt many of the traditional Iranian techniques, melodies and ornamentation that were a large part of his musical expression.
In 2004, still unsatisfied with the limited expression of his instruments, he felt the urge to push further on these boundaries and sought out the help of renowned instrument maker Jonathan Wilson who introduced him to what would become one of Loga's main forms of expression- the Guitar Viol, a bowed electric Guitar, to which Loga could finally adapt the entire range of eastern modality. Since then Loga has worked closely with Jonathan to develop the Kamaan – a bowed acoustic instrument which Jonathan specifically designed for him.
Though Loga is highly accomplished on a wide array of instruments such as the Lafta, Guitar, Djura etc., his main instruments are the Turkish Saz, the Kamaan and the Guitar Viol. With its haunting sound that mesmerizes audiences, Loga is one of the few musicians in the world who performs the Guitar Viol live, and what makes his style so unmistakable is that he is able to apply traditional Persian bowing techniques and melodies to his playing.
Loga's music has become sought after by many renowned film composers in Hollywood such as Harry Gregson Williams, Hans Zimmer and Ramin Djawdi to name a few. His talent has been featured on many major film scores, which include "Body of Lies," "Iron Man" and "Prince of Persia."
Mehraab literally means "Shrine." Loga concludes, "In this case the shrine for me is a sanctuary, a place to lose myself in and a place to experience a truth free of dogmatic ideologies. Music in the end should function as such a place for all of us. A place we can come to, to be truly free."
Buy the album or MP3 downloads:
Author:
World Music Central News Department
World music news from the editors at World Music Central