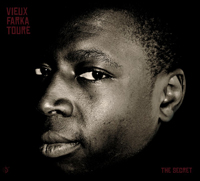 Vieux Farka Toure
The Secret (Six Degrees, 2011)
"Do you want to know the secret? You have to listen to the album," so says Vieux Farka Toure.
Not content to simply take up where his famed guitarist father Ali Farka Toure left off, Vieux Farka Toure has pulled out all the stops, with the help of a few friends, to plumb the depths his own history and his own sound on his latest The Secret, out on the Six Degrees label. Creating a taut, savagely fierce sound that draws deeply from Vieux Farka Toure's Malian roots, rock, African blues and American blues, The Secret is lushly guitar driven and at times reminiscent of Carlos Santana's 70s, full-bodied, guitar lick heaven sound.
Following up on such recordings as Vieux Farka Toure, Vieux Farka Toure Remixed: UFOs Over Bamako, and Fondo, songwriter, arranger, guitarist and vocalist Mr. Farka Toure has teamed up with producer Eric Krasno of Soulive fame and who also takes a turn on guitar on the track "Lakkal." Guest musicians include Dave Matthews, Derek Trucks from the Allman Brothers Band, jazz master John Scofield and Ivan Neville on organ and Eric Herman on bass. Rounding out The Secret's sound are a whole host of musicians like Ali Magassa on rhythm guitar, Souleymane Kane on calabash and djembe, Tim Keiper on drums and pandeiro, Mamadou Sidibe on bass, Ganda Tounkara on ngoni, Adama Goussibe on djembe and others.
From the shimmering opening track "Sokosondou" through to the guitar slick "Aigna," featuring Derek Trucks, on to the truly masterful "All the Same" with Dave Matthews and through to the soulful closing track "Touri," The Secret is like a roundhouse punch in the kisser, it's that good. Sharply extravagant guitars, deliciously rich vocals and soul deep rhythms shake the very foundations of African blues and funk. "Lakkal," featuring Eric Krasno on guitar, Ivan Neville on organ and Eric Herman on bass, is brimming over with an edgy funk that's positively inspiring. Title track "The Secret" is a gem with guitar lines drawn by both Vieux and his father Ali against a hypnotic revolving rhythms and dashes of flute to round out the sound. Equally good are the tracks "Sankare Diadje" and richly exotic and jazzy "Gido" with John Scofield.
Vieux Farka Toure says of The Secret, "My music is more mature now, more evolved. It digs deeper into the past and pushes harder into the future as a result. This is a hard thing to explain, but hopefully the music speaks for itself."
The music of The Secret indeed speaks for itself and it's all ferociously good.
Recordings available:
Author:
TJ Nelson
TJ Nelson is a regular CD reviewer and editor at World Music Central. She is also a fiction writer. Check out her latest book, Chasing Athena's Shadow.
Set in Pineboro, North Carolina, Chasing Athena's Shadow follows the adventures of Grace, an adult literacy teacher, as she seeks to solve a long forgotten family mystery. Her charmingly dysfunctional family is of little help in her quest. Along with her best friends, an attractive Mexican teacher and an amiable gay chef, Grace must find the one fading memory that holds the key to why Grace's great-grandmother, Athena, shot her husband on the courthouse steps in 1931.
Traversing the line between the Old South and New South, Grace will have to dig into the past to uncover Athena's true crime.