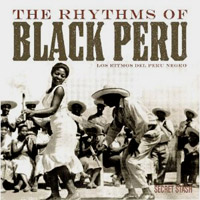 The Rhythms of Black Peru compilation of Afro-Peruvian music will be released May 24, 2011 on sdecret Stash Records. From the mid 1950s through the 1970s, Peruvian labels such as El Virrey, IEMPSA, and Odeon supported an Afro-Peruvian revival with the release of hundreds of albums.
The Rhythms of Black Peru is a collection of some of the most important Afro-Peruvian recordings of all time that is over a year and half in the making. Many of the tracks were discovered after digging for records in a run-down garage located in central Lima last April.
This compilation includes prolific figures in Afro-Peruvian culture such as Nicomedes Santa Cruz, Chabuca Granda, and Zambo Cavero. This hand numbered vinyl-only compilation is an introduction to this percussion driven fusion of African rhythms and Latin melodies. Each LP is hand assembled and comes in a re-sealable dust bag and includes a HQ MP3 download card for the entire album.
"In April of 2010, my best friend and business partner Cory Wong and I traveled to Lima, Peru. We spent 7 days in the bohemian district of Barranco," says Eric Foss. "While there, we gathered Afro-Peruvian musicians and recorded over 50 songs. Those recordings became known as Peña. We released 3 volumes of Peña between October '10 and April '11. During our time in Lima, we also met and interviewed some of the leading experts in Afro-Peruvian history. Some of those conversations were captured on the documentary DVD that accompanied the first Peña release.
In an effort to learn more about the music we set out to record, I purchased dozens of classic Afro-Peruvian LPs in a flea market inside a rundown garage in Central Lima. This music is extremely hard to find outside of Peru, so it was necessary to stock up while I could. I was also fortunate enough to meet the families of deceased musicians as well as some of the local record labels."
Rhythms of Black Peru Compilation – Audio Samples:
SIDE A
Ruperta (Landó) – Eva Ayllon
Mama Luchita (Festejo) – Nicomedes Santa Cruz
Samba Malato (Landó) – Lucila Campos
El Puente De Los Suspiros (Vals) – Chabuca Granda
Toro Mata (Landó) – Carlos "Caitro" Soto de la Colina
Prendeme La Vela (Festejo) – Abelardo Vásquez & Cumanana
SIDE B
El Mayoral (Festejo) – Lucila Campos
Pobre Voz (Vals) – Chabuca Granda
Torito Pinto (Festejo) – Peru Negro
Charango – Carlos "Caitro" Soto de la Colina
El Alcatraz (Festejo) – Arturo "Zambo" Cavero
Instrumentos Musicales – Nicomedes Santa Cruz
Buy the album: The Rhythms of Black Peru
Author:
World Music Central News Department
World music news from the editors at World Music Central