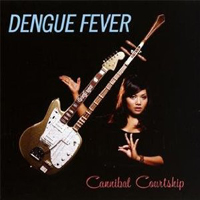 Dengue Fever
Cannibal Courtship (Fantasy Records/Concord Music Group, 2011)
The Cambodian, surf, garage band Dengue Fever has hit the streets with their latest Cannibal Courtship, out now on the Fantasy Records/Concord Music Group label, and the group has jacked up their sound with 11 new original songs that rev up their retro, psych-groove sound to a fever pitch. Following up on such recordings as Dengue Fever, Venus on Earth, Escape from Dragon House and the DVD Sleepwalking Through the Mekong, this Los Angeles based band has proven their staying power with rave reviews and accolades, countless spots on television and movie soundtracks and almost non-stop touring gigs and festival appearances.
The group's bassist Senon Gaius Williams explains their latest sound evolution this way, "Before it was partly Cambodian and partly indie rock, now it's 100 percent both."
Dengue Fever regulars vocalist Chhom Nimol, keyboardist Ethan Holtzman, guitarist and vocalist Zac Holtzman, horn player David Ralicke, drummer Paul Dreux Smith and bassist Senon Gaius Williams turned to percussionist Gordon "Nappy G" Clay and Los Angeles girl group The Living Sisters to enhance the Dengue Fever experience on Cannibal Courtship.
For Cannibal Courtship, Dengue Fever drinks deeply of a darker, more edgy flavor than the more pop friendly sound of earlier recordings. Opening, title track "Cannibal Courtship" thrums with a meaty beat, slick guitars, sharply worked keyboards and Ms. Nimol's signature vocals swirling overhead to create a sound that is rooted in retro but isn't.
Drummer Paul Dreux Smith says of putting together this recording, "Things are just going through our filter now and we're no longer questioning what the filter is. The result is music that does have a distinct feel and sound but still encompasses what people know us for."
Stand out tracks on Cannibal Courtship include the silky "Uku," the psychedelic tinged "Family Business," the dishy "2012 (Bury Our Heads)" and the surf sound goodness of "Mr. Bubbles." "Kiss of the Bufo Alvarius" is a sleek number that sounds like a cross between a sci-fi theme and early 60s spy movie music. "Only a Friend" and "Sister in the Radio" are equally good with that quirky signature Dengue Fever flavor that spirals hypnotically with sleek guitar lines, chunky keyboards and Ms. Nimol's exotic vocals.
Cannibal Courtship is full of hip flash and kicking grooves that will have to satisfy those fans not on Dengue Fever's 2011 touring schedule.
Buy the album or MP3 downloads:
Author:
TJ Nelson
TJ Nelson is a regular CD reviewer and editor at World Music Central. She is also a fiction writer. Check out her latest book, Chasing Athena's Shadow.
Set in Pineboro, North Carolina, Chasing Athena's Shadow follows the adventures of Grace, an adult literacy teacher, as she seeks to solve a long forgotten family mystery. Her charmingly dysfunctional family is of little help in her quest. Along with her best friends, an attractive Mexican teacher and an amiable gay chef, Grace must find the one fading memory that holds the key to why Grace's great-grandmother, Athena, shot her husband on the courthouse steps in 1931.
Traversing the line between the Old South and New South, Grace will have to dig into the past to uncover Athena's true crime.