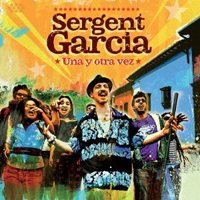 Sergent Garcia
Una y Otra Vez (Cumbancha, 2011)
Mestizo music scene guru and indie rocker Bruno Garcia, alias Sergent Garcia, is back after five years with the searing Una y Otra Vez, set for release on May 17th on the Cumbancha label. Known in the business for his edgy blend of reggae, ska, dancehall and Latin grooves, a sound he dubbed "salsamuffin," and recordings like Sin Fronteras, Mascaras, La Semilla Escondida and Un Poquito Quema'o, Garcia has headed back to the recording studio this time with the good folks at Cumbancha. Delving deeply into the music scene of South America, particularly Colombia's incendiary music scene, Garcia's Una y Otra Vez flies free over the known edge with wild abandoned with a sound that will have fans begging for more.
Sergent Garcia explains his discovery of Colombia's up-and-coming music scene, "Colombia is incredible. There were very good bands playing every day in the streets, in the bars, every place; a lot of different styles, a lot of people making music, making art, it was all very, very interesting. And the people, the vibration of the people is incredible."
After working with Cuban percussionist Ivan Darroman Montoya and members of the Sergent Garcia band in Europe, Garcia traveled to Colombia to work with local musicians like La Mojarra Electrica's Jacobo Velez, Sidestepper's Erika Munoz and Bomba Estereo's Liliana Saumet, among others. Sergent Garcia band members drummer Lukmil Perez, bassist Zaf Zapha, guitarist and tres player Lino Michel, keyboardist and pianist Aldo Medina, trumpeters Philippe Anicaux and Christophe Moura, singer Hector Gomez and Bruno Garcia on vocals, guitars, keyboards and programming round out the sound on Una y Otra Vez.
Bold and full of brassy goodness Una y Otra Vez leaps headlong into the hip shaking title track "Una Y Otra Vez" before dipping into the fiery salsa track "Yo Soy Salsamuffin." "Chacun Son Combat" grooves on dishy brass and a edgy sultriness, but it's "Mi Son Mi Friend" that kicks some ass with guests Jacobo Velez on clarinet, Yeison Carrillo on accordion, percussionist Kike Egurrolo and Li Saumet on vocals.
The Afro-Cuban rumba "En Mi Mochila" is truly stunning, as is the reggae tinged "Brujeria" and the dreamy "Bolero Nuevo." "To Mi To Mi" with its sexy electric flash and sassy backing vocals by Erika Muñoz and Adriana Ferrer is a personal favorite, along with the wonderful meatiness of "En El Domino."
Vibrant, potent and wholly irresistible, Una y Otra Vez is a winning hybrid sound.
Buy the album or MP3 downloads:
Author:
TJ Nelson
TJ Nelson is a regular CD reviewer and editor at World Music Central. She is also a fiction writer. Check out her latest book, Chasing Athena's Shadow.
Set in Pineboro, North Carolina, Chasing Athena's Shadow follows the adventures of Grace, an adult literacy teacher, as she seeks to solve a long forgotten family mystery. Her charmingly dysfunctional family is of little help in her quest. Along with her best friends, an attractive Mexican teacher and an amiable gay chef, Grace must find the one fading memory that holds the key to why Grace's great-grandmother, Athena, shot her husband on the courthouse steps in 1931.
Traversing the line between the Old South and New South, Grace will have to dig into the past to uncover Athena's true crime.