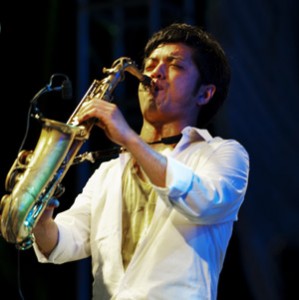 Day Three of the four-day Borneo Jazz Festival in Malaysia was a high-energy climax with bands from Canada, Malaysia, Japan, Holland and the US.
Borneo guitarist Victor Yong, originally from Miri and now based in Vancouver, shared his joy at being back home with a good opening set of Latin jazz. His percussionist, Nicholas Charles Apivor, who also performed twice at the Miri International Jazz Festival with the band Rumba Calzada, had the audience on their feet with a terrific set of Brazilian batucada which featured all members of the band 'Electric Carnival' on percussion.
Japanese saxophonist Yuichiro Tokuda led the high-energy quintet Ralyzz Dig on a set of straight-ahead jazz. By then the crowd has swelled up, under a rising moon and another perfect tropical evening. Dutch sextet State of Monc followed with a hybrid set combining slick electronic sound with pure jazz on acoustic instruments. Bernardus Dungen on saxophone and Tuur Moens on drums really stood out.
Multiple Grammy nominee Maria Muldaur (of "Midnight at the Oasis" fame) then belted out a foot-stomping set of blues and swing, including hilarious raunchy classics such as 'It Ain't the Meat, It's the Motion." Her full-blast vocals on "You are seeing a woman who's got the blues" drew rousing audience applause, as well as the scorching guitar solos by Daniel Joseph Caron.
If there is one artistic director who can curate a superb blend of world music, jazz and blues, it has to be Randy Raine Reusch from Vancouver, who once again ended the performances in rousing style by coordinating a joint jam featuring all 10 bands. Maria Muldaur finished her set with the classic all-night blues party song 'Wang Dang Doodle,' and musicians from all the bands joined her on stage one by one, to the audience's delight. Power-rhythm duo Gino Banks on drums and Sheldon D'Silva on bass, from the Indian fusion band Dhruv, anchored the second half of the jam.
An informal version of the jam carried on in the hotel bar till the wee hours of the morning. It was terrific to see a French guitarist, Japanese bassist, Indian drummer and a Dutch saxophonist jamming away, for instance, joined by other aspiring musicians such as a singer from Australia!
We look forward to the Matinee on Day Four afternoon already, with Ray Piper's Brazilada from Australia and Canada. Follow the Twitter hashtag #BorneoJazz for live updates!
Borneo Jazz Surfboard
John Hammond
Maria Muldaur /
Cunha & Piper from Brazil
Les Doigts De L'Homme
Dhruv
State of Monc http://www.myspace.com/stateofmonc
Victor Yong and the Electric Carnival
SIU2
Yuichiro Tokuda
Author:
Madanmohan Rao
Madanmohan Rao is an author and media consultant from Bangalore, and global correspondent for world music and jazz for World Music Central and Jazzuality. He has written over 15 books on media, management and culture, and is research director for YourStory Media. Madan was formerly World Music Editor at Rave magazine and RJ at WorldSpace, and can be followed on Twitter at @MadanRao.