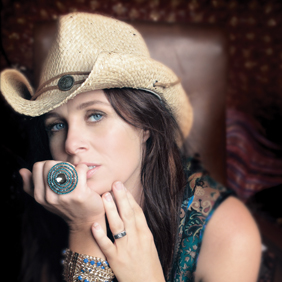 The International Songwriting Competition (ISC) announced today the 2010 winners. ISC's Grand Prize for 2010 is awarded to Australian native Kasey Chambers for her song "Beautiful Mess", entered in the Folk/Singer-Songwriter category. Chambers also has the distinction of winning First Place in the Americana category for her song "Devil On Your Back" and Second Place in the Performance category for "Little Bird". The Grand Prize winner takes home $25,000 in cash (US) and $20,000 in merchandise and services.
ISC was established in 2002 and awards more than $150,000 in cash and prizes to amateur and professional songwriters around the globe. Winners are selected from over 15,000 songs submitted from 115 countries worldwide.
Kasey Chambers' Grand Prize winning song, "Beautiful Mess," features Missy Higgins on backing vocals and is the second single from the album, Little Bird. Chambers wrote the song for her two children because, as she says, parenting is often a "beautiful mess," and her songwriting is an outlet by which she expresses her love to them.
Hailing from a family of musicians, Kasey Chambers' distinctive voice and impeccable songwriting have carved an indelible niche in the Country and Americana genres in Australia and beyond. The winner of countless ARIA, APRA, and CMMA awards, she has achieved the distinction of being the only Australian Country artist to have a #1 single and album on the charts in Australia simultaneously. Aside from her multi-platinum sales, she has toured with such legendary voices as Lucinda Williams, Emmylou Harris, and more. Kasey is currently touring Australia and heading to the USA in July, 2011.
Candace Avery, the Founder and Director of ISC, says this of Chambers, "Kasey is that rare artist whose beautifully crafted songs cross over into such a wide variety of genres, including Country, Americana, Pop, Folk, and AAA. She has even put out an album of children's music. But, it is the authenticity and sincerity of her music and lyrics that make her songs resonate so strongly with her fans – and also with the ISC judges. We are proud to have her as the 2010 ISC Grand Prize winner. Regarding all our other winners, ISC was especially competitive this year, making the stature of being selected a winner an honor that is even more prestigious than in past years."
In addition to the Grand Prize winner, many other deserving songwriters also share the spotlight for winning their respective categories in ISC 2010. These winners hail from all over the world (54% of this year's winners come from outside the USA), representing diverse cultures and ranging from talented amateurs to seasoned songwriting veterans. The 22 categories include all genres of contemporary music, including a new category, Unsigned Only, which was added specifically for artists who are unsigned to a record label or publishing company. See below for a complete list of ISC 2010 winners.
Sponsors included: ASCAP, Berklee College Of Music, Martin & Co., Disc Makers, D'Addario, Thayers, Shure, West One, Tune Core, Onlinegigs, SongU.com, The Music Business Registry, Tanager AudioWorks, Grooveshark, Independent Mastering, Aspen Brownieworks, Indie Venue Bible, Sonicbids, Taxi, Music Submit, Celebrity Access, and Alphabet Arm Design.
The complete list of ISC 2010 winners is as follows:
Grand Prize
"Beautiful Mess" – Kasey Chambers – Central Coast, NSW, Australia
AAA
First Place
Bus Stop – Kav Temperley, Kevin Mitchell, Josh Pyke, Steve Parkin – Basement Birds (Fitzroy, VIC, Australia)
Adult Contemporary (AC)
First Place
Sticks And Stones -Tim Mahoney, Ric Todd (Minneapolis, MN, USA)
Americana
First Place
Devil On Your Back – Kasey Chambers (Central Coast, NSW, Australia)
Blues
First Place
Daddy's Little Girl – John McAneney, Jesse O'Brien – The Johnny Max Band (Mississauga, ON, Canada)
Children's Music
First Place
Every Little Drop – Hewey Eustace – dirtgirl/dirtgirlworld (Camira Creek, NSW, Australia)
Comedy/Novelty
First Place
You Should Really Call Your Mother – Mark Silverman (Sherman Oaks, CA, USA)
Country
First Place
Bourbon – Nicole Witt (Charlotte, NC, USA)
Dance/Electronica
First Place
Awaken – Jes Brieden, Richard Robson – JES (West Hollywood, CA, USA)
Folk/Singer-Songwriter
First Place
Cold Paper Heart – Tucker Finn (Toronto, ON, Canada)
Gospel/Christian
First Place
Heartbeat – Sean Dayton, Brent Milligan (North Bay, ON, Canada)
Instrumental
First Place
Gone Beserk – Lee Marcus, Dan Menzone (Charlton, MA, USA)
Jazz
First Place
Fast And Furious – David Laborier (Luxembourg, Luxembourg)
Latin
First Place
Lo Mejor De Mi – SJ (Miami Beach, FL, USA)
Lyrics Only
First Place
Throw It On The Heap – Helle Hansen (Copenhagen, Denmark)
Music Video
First Place
Thank You – Directed by Jorge Moreno – Jorge Moreno (Miami, FL, USA)
Performance
First Place
Waltz in The Snow – Chiara Angelicola – Bird Call (Brooklyn, NY, USA)
Pop/Top 40
First Place
Settle Down – Kimbra Johnson – Kimbra (Melbourne, VIC, Australia)
R&B/Hip-Hop
First Place
Shy and Out of Season – Ralph Joseph, Robert Bolton, Alexander The, Sarah Shafey – Broad Way Sleep (Toronto, ON, Canada)
Rock
First Place
Life Design – Kahn Morbee – The Parlotones (Johannesburg, South Africa)
Teen
First Place
Music Is Fundamental – Khristiana Parchman – Tia P. (Inglewood, CA, USA)
World Music
First Place
Simama – George Mutinda Wambua – Mutinda (Nairobi, Kenya)
Unsigned Only
First Place
All Fall Down – Alastair McRae – Inland Sea (Brisbane, QLD, Australia)
People's Voice 2010 Winner
Who We Really Are – Sebastian Kropp, Remington Kropp, Emerson Kropp – Kropp Circle (Las Vegas, NV, USA)
The Peoples' Voice is an online voting that is open to the public, and 50,000 votes were received in total. The winner receiving the most votes is the Peoples' Voice winner.
ISC is now accepting entries for 2011. Go to http://www.songwritingcompetition.com for more information and an entry form.
For a complete list of 2010 ISC winners and to hear the winning songs, go to songwritingcompetition.com/winners
Author:
World Music Central News Department
World music news from the editors at World Music Central