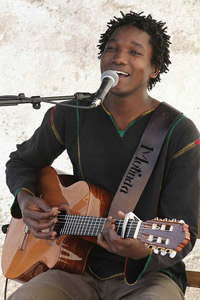 George Mutinda Wambua of Kenya won the first place in the World Music category at the 2010 International Songwriting Competition (ISC). Second Place went to 'Katakanlah' by Amirah Ali of Kuala Lumpur, Malaysia. The Third Place was won by 'Ooo Eee' by Alejandro Escallon, William Tappan, Maria Angelica Duque – Jaranatambo (Bogota, Colombia).
Mutinda from Kenya is a self-taught musician who began pursuing his career in his childhood by playing a home-made guitar. With his first salary, Mutinda purchased his first guitar and embarked on his heart's journey. Growing up in a typical Kenyan rural setting and later living in Eastleigh – one of the toughest neighborhoods in Nairobi – has made Mutinda interact with all kinds of people, whose lives and choices give him inspiration to share his messages, and be an encouragement, a hope and motivation for change. For Mutinda music is an opportunity to share his inner realizations and truths and to connect with people through a personal life experience.
Matopeni, released in 2008, features many great Kenyan artists such as Barbara Guantai, Abbi, Hellon, Kombo Chokwe Burns and Dave Mobb Otieno among others. Mutinda's vocals are in Swahili or Kikamba (Mutinda's mother-tongue).
Besides making music, Mutinda has for several years been working with Sauti Za Kwetu – a group of boys from Mathare slum in Nairobi. Through music he encourages the boys to know life to be more than their environment and that it is possible to find grace and humbleness in the midst of the toughest life-conditions.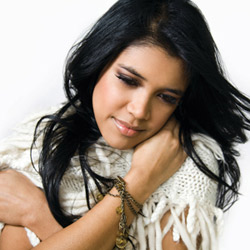 Amirah Ali is a world pop singer songwriter whose fusion of traditional Malaysian and modern pop music was introduced to music lovers across the world through the release of her first single 'Katakanlah', a track that gained great attention from fans, press and radio from the U.S. to Malaysia.
World Music
First Place
Simama – George Mutinda Wambua – Mutinda (Nairobi, Kenya)
Second Place
Katakanlah – Amirah Ali (Kuala Lumpur, Malaysia)
Third Place
Ooo Eee – Alejandro Escallon, William Tappan, Maria Angelica Duque – Jaranatambo (Bogota, Colombia)
Honorable Mention
Alhambra – Seckou Keita (Nottingham, England)
Drawn From Water – Eric Hester, Lale Labuko (Valencia, CA, USA / Jinka, Ethiopia)
Gardens Of Lebanon – Chris McKhool, Kevin Laliberte – Sultans of String (Toronto, ON, Canada)
Goba – Fely Tchaco (San Francisco, CA, USA)
Heartsky – Prashant Michael John, Prakash Sontakke – Lehera (Richmond, BC, Canada)
Kurumo (Kru Man) – Sikiru Adepoju, Douglas Serrant, Bola Abimbola – Afrika Heartbeat (Oakland, CA, USA)
Libertad – Jacco Muller – Jacco Muller and Victor Ghannam (Amsterdam, The Netherlands)
On Jai Ya – Richard Layton Gannaway, Jay Oliver, Miriam Stockley – AOMUSIC (Asheville, NC, USA)
Information on ISC and Winners: songwritingcompetition.com/winners
Author:
World Music Central News Department
World music news from the editors at World Music Central