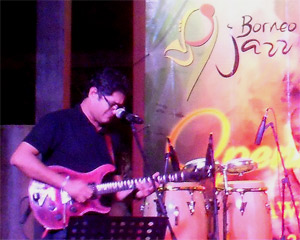 The Indian jazz-fusion band Dhruv kicked off the four-day Borneo Jazz Festival in fine style. The festival, held in Miri, Malaysia, is now in its fifth edition.
Dhruv (led by guitarist Dhruv Ghanekar) played a superb set of funk jazz and Indian-inspired fusion. The song "Cunning Politics" was a dig at the messy politics in our world today; another track was dedicated to the victims of the tsunami tragedy in Japan.
Many of the tracks were taken from Dhruv's recent album "Distance." Their last song was an African-inspired tune, and represents the group's new direction of exploration.
"I plan to go Africa and record tracks for my next album there," says Dhruv. Sheldon D'Silva delivered superb solos on his six-string electric bass, and drummer Gino Banks delighted the audience with some superb rolls accompanied by Indian percussion language scatting (konakol). The other band on opening night was CQuence, a local band in Miri playing Latin covers, who had the audience on their feet trying out salsa moves.
I picked up a nice stack of CDs for review from Cunha&Piper (Fernanda Cunha from Brasil and Ray Piper from Australia: post-bossa groove) and SIU2 (Hong Kong: featuring jazz played on traditional Chinese instruments such as sheng, sanxien and zheng).
Other highlights of the festival coming up tonight include gypsy-jazz by Les Doigts De L'Homme from France.
Author:
Madanmohan Rao
Madanmohan Rao is an author and media consultant from Bangalore, and global correspondent for world music and jazz for World Music Central and Jazzuality. He has written over 15 books on media, management and culture, and is research director for YourStory Media. Madan was formerly World Music Editor at Rave magazine and RJ at WorldSpace, and can be followed on Twitter at @MadanRao.