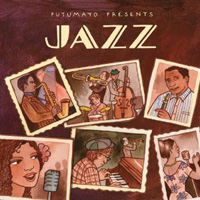 Various Artists
Putumayo Presents Jazz (Putumayo World Music, 2011)
From the opening strains of Nina Simone's version of "My Baby Just Care For Me," Putumayo's Jazz will add a welcomed kick in your step. Saucy, sassy and downright sizzling, Jazz pulls out all the stops for this collection of coolness. Pulling mostly from recordings from the 1950s golden age of smooth singers and jazz legends, Jazz zings with the likes of Louis Armstrong, Nat King Cole and Chet Baker. Remixing and remastering the12 tracks of Jazz, Putumayo lays down a polish and luster missing from some of the originals, making this compilation a treat for well seasoned jazz fans and newbies alike.
Continuing in the vein of other Putumayo jazz compilations like Women of Jazz, Jazz Around the World, Latin Jazz and New Orleans, this recording seeks out the quintessential sounds to share and introduce that particular sound to both new and old listeners. Snagging Tulane University's Director of American Studies and WWOZ New Orleans radio host Joel Dinerstein to write the liner notes turns Jazz into a true collector's edition and educational tool for the uninitiated.
Swinging through The King Cole Trio's "Deed I Do," Maxine Sullivan's "Tain't No Use," and Zoot Sims's "Someone to Watch Over Me," Jazz sparkles with jazz's all time greats. If you add in Anita O'Day's dishy track "It Don't Mean a Thing," Cannonball Adderley's and Bill Evans's charming version of "Waltz for Debby" and wrapping up the lot with Lady Day, Ms. Billie Holiday's "Lover Come Back to Me" and Jazz is a hard to pass up as a jazz lover's delight.
Plush and dreamy with a crystal clear sound, Jazz is a classy compilation. Mr. Dinerstein's savvy liner notes and a collection of vintage photographs take this package up a notch against Putumayo's signature cover art, making Jazz a real treat for music fans of every shape, color or age.
Buy the album or MP3 downloads:
Author:
TJ Nelson
TJ Nelson is a regular CD reviewer and editor at World Music Central. She is also a fiction writer. Check out her latest book, Chasing Athena's Shadow.
Set in Pineboro, North Carolina, Chasing Athena's Shadow follows the adventures of Grace, an adult literacy teacher, as she seeks to solve a long forgotten family mystery. Her charmingly dysfunctional family is of little help in her quest. Along with her best friends, an attractive Mexican teacher and an amiable gay chef, Grace must find the one fading memory that holds the key to why Grace's great-grandmother, Athena, shot her husband on the courthouse steps in 1931.
Traversing the line between the Old South and New South, Grace will have to dig into the past to uncover Athena's true crime.