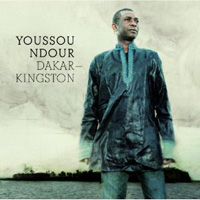 Youssou N'Dour
Dakar-Kingston (Emarcy Records, 2011)
Youssou N'Dour draws deeply from his own childhood experiences of listening to the easy, breezy reggae recordings played in his uncle's record shop and the sounds eking out through the market stall of Dakar's market district on latest recording Dakar-Kingston, set for release on June 7th on the Emarcy Records label.
The hearty fare found on this CD rises on the air like a fragrant Jamaican wind, just as Mr. N'Dour's signature vocals sweetly stir the hairs on the back of your neck. Senegal's superstar N'Dour tunes into the reggae sound on Dakar-Kingston with stunning results, fashioning a new flavor for the genre.
Opening with the tribute track "Marley," a head nod to reggae legend Bob Marley, N'Dour evokes an easy, thrumming sound that vibrates with a feel-good air before giving way to the yummy, brass flashing track "Medina." Dashes of N'Dour's West Africa sensibilities against meaty Jamaican rhythms and a biting rap section turn "Joker" inside out smash.
N'Dour explains coming to the idea of Dakar-Kingston this way, "For years, people told me that my voice would be perfect for a reggae album. Then one day, I really felt how my songs could get a second chance through reggae. It made sense to me."
Teaming up with the estimable Tyrone Downie, producer and former Wailer, in a collaboration that would take the pair to Dakar and then to Kingston to the famed Tuff Gong studio, Mr. N'Dour and Mr. Downie whip up a sound burning bright with a shimmering kaleidoscope of island bright and African cheer.
Wowing fans with tracks like "Black Woman," the soulful "Africa Dream Again," "Don't Walk Away" and the swaying goodness of "Leteuma," Mr. N'Dour journeys along the reggae road with ease and fresh sense of reggae's roots and possibilities.
Youssou N'Dour says of the process, "For me, this album makes me understand how Bob Marley did so much good work. He was working with the musicians like a family."
Buy the album or MP3 downloads:
Author:
TJ Nelson
TJ Nelson is a regular CD reviewer and editor at World Music Central. She is also a fiction writer. Check out her latest book, Chasing Athena's Shadow.
Set in Pineboro, North Carolina, Chasing Athena's Shadow follows the adventures of Grace, an adult literacy teacher, as she seeks to solve a long forgotten family mystery. Her charmingly dysfunctional family is of little help in her quest. Along with her best friends, an attractive Mexican teacher and an amiable gay chef, Grace must find the one fading memory that holds the key to why Grace's great-grandmother, Athena, shot her husband on the courthouse steps in 1931.
Traversing the line between the Old South and New South, Grace will have to dig into the past to uncover Athena's true crime.