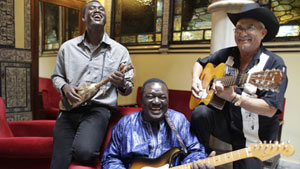 AfroCubism and Pellejo Seco will be performing July 10 at the annual Stern Grove Festival. AfroCubism is a project fifteen years in the making and well worth the wait. Originally this group of legendary musicians from Mali and Cuba set out to record together, but when the Malian musicians did not arrive, the Buena Vista Social Club was born instead. AfroCubism was not realized until the Malian and Cuban artists finally met in 2009 for a jam session in Spain.
Featuring Cuban singer and guitarist Eliades Ochoa and Malian kora master Toumani Diabaté, among other talents, AfroCubism is a celebration of the commonalities between two disparate cultures, proving that music is truly a universal language.
The Bay Area's own Pellejo Seco draws on the best of Latin traditions, pulling from the seven individual members' diverse trainings and study of cumbia and salsa, while incorporating rock and jazz for vivacious, danceable beats.
Stern Grove is located at 19th Avenue and Sloat Boulevard in San Francisco. Every summer, Stern Grove Festival presents stellar performing arts in one of the country's most beautiful natural settings, completely free of admission.
All Stern Grove Festival events are ADMISSION-FREE; no tickets are required.
All concerts begin at 2:00 p.m. at Sigmund Stern Grove, located at 19th Avenue and Sloat Boulevard (in San Francisco's Sunset/Parkside district).
Stern Grove is accessible by MUNI bus and metro lines and concert-goers are encouraged to use public transportation. A free bike valet service is provided at Stern Grove Festival. There is no parking provided at Stern Grove Festival and if patrons must drive, they are encouraged to use the online rideshare service, PickUpPal.
Concertgoers are encouraged to arrive early for the best lawn seating and may bring picnics, low beach chairs, and ground covers. Tall chairs, beach umbrellas, and pets are prohibited in Stern Grove during concerts. Blankets and groundcovers are restricted in size to 8×10 feet due to space limitations. Unoccupied blankets are subject to removal. Designated benches are reserved for seniors over the age of 65 and disabled persons with one guest until 30 minutes prior to concert time. To ensure the safety and comfort of patrons at each performance, the concert meadow will be closed to further entry if capacity is reached. Patrons are not guaranteed seating in the meadow.
Free shuttle service within the Grove is provided to seniors and disabled patrons and a drop-off area is located at the entrance to the park at 19th Avenue and Sloat Boulevard. A limited number of handicapped parking spaces are available at the 19th Avenue and Sloat Boulevard entrance to the park.
Picnics are welcome and food and drinks are available from the Grove Café. Festival merchandise and artist CDs are for sale at the Festival Shop.
Sigmund Stern Grove is a 33-acre recreation area with meadows, picnic facilities, hiking trails, and a lake. The audience is advised to come prepared for both sun and fog.
Recordings available:
In North America:
In Europe:
Visit the Stern Grove Festival website at http://www.sterngrove.org
Author:
World Music Central News Department
World music news from the editors at World Music Central